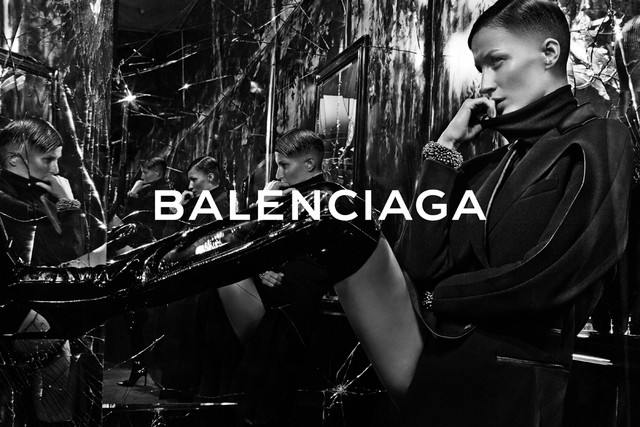 While we typically lust after Gisele Bundchen's long locks in her many advertisements, this time, we're not sure where all of her hair has gone. In the fall ad campaign for Balenciaga, Gisele is seen in a dark and dreary mirrored room in thigh-high patent leather boots – with a slick buzz cut.
According to WWD, Alexander Wang, the brand's new artistic director noted that, "This is how I see Gisele for Balenciaga; strong, powerful, mysterious and uncompromising." The campaign was shot by photographer Steven Klein, and half of the images will be in black and white and half in color. While it's definitely different to see Gisele without much hair – although she can pull off any look, let's face it – we want her long strands back.
MORE: Gisele Bundchen for Pantene
Don't fret too much though, we are pretty positive that this is just a wig. Gisele is under contract with Pantene, so we're betting they wouldn't be too keen on her chopping off her famous locks. Plus, she's been posting photos of herself on Instagram all week cheering on Brazil for the World Cup, and her hair looks long, luscious and oh-so-model-worthy. So while it is nice to know that she's just as gorgeous without those famous locks (like we ever even wondered) we prefer her with them.
What do you think of this buzzed look though? Are you just as impressed as we are with the wig in this advertisement? Let us know in the comments below!