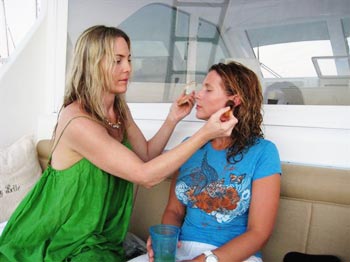 Don't underestimate the power of a girl's trip. When women have adventures together, they share stories, thoughts and ideas and learn so much from one another. Beauty always winds up playing a role as it is our feminine nature and celebrating it together is empowering. I just went deep sea fishing in the Dry Tortugas with three girlfriends and had the time of my life! It was a weekend of fun in the sun with lots of fresh seafood–caught and cooked by us, of course!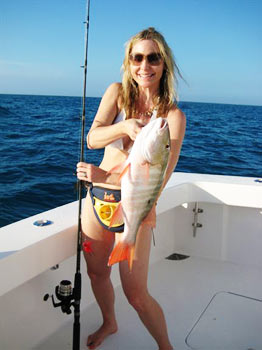 Even though we were on a boat in the middle of the Caribbean, we still wanted to look our best. I treated the gals to vacation makeovers, which was a good idea because just about an hour later some very cute guys from the US Coast Guard came on our boat to say hello.
The first step was to make sure everyone was wearing sunscreen, which you should always have on, even if you're not on a boat. My favorite sunscreen is SkinCeuticals Sport UV Defense SPF 45. This waterproof zinc formula never breaks you out and totally blocks the suns rays. Makeup also glides on top of it without changing texture.
Next, I like to apply a little bit of sheer liquid foundation. I use a water resistant formula like Sally Hansen Natural Beauty inspired by Carmindy Your Skin Makeup and blend on a tiny bit to cover any redness. Then I tap on a little cream highlighter on top of the cheekbones and under the brows and blend on a little cream blush to the apples of the cheeks. When swimming creams stay on better then powders as long as you don't rub your face when you get out of the water.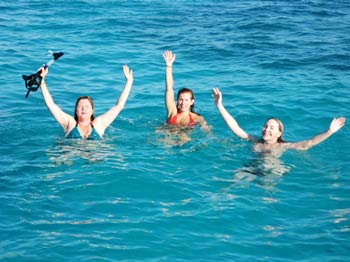 For the eyes I smudge a hint of waterproof gel eyeliner along the upper lash line. I love the NYC Waterproof Eyeliner Pencil or Urban Decay 24/7 Glide-On Pencil. Have fun and use shades of blue, teal or green while on the water. Finish the eyes with a light formula waterproof mascara like Maybelline Lash Discovery. For lips, a protective balm will keep lips smooth and supple. Try Burt's Bees Lifeguards' Choice Lip Balm and then top it off with your favorite gloss for a little fun!
As an established makeup artist, many beauty brands send me samples of their latest products for consideration. I only write about the items that I truly love and I always abide by Daily Makeover's Editorial Ethics Pledge in each of my Positively Beautiful posts.