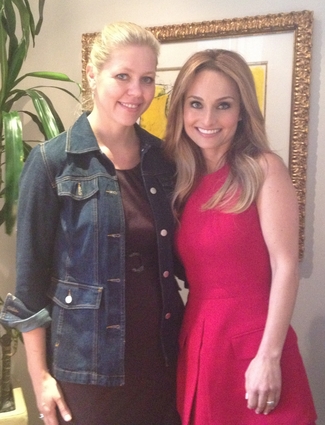 Giada De Laurentiis is not only a famous foodie, but she's also a diehard beauty junkie. As the new celebrity ambassador for Clairol Natural Instincts, she admitted to me: "I've been trying for a beauty deal for a long time, I'm not going to lie!" Really, it shouldn't come as a surprise that's she's all about the beauty tips and tricks, being that she's one of the first female chefs who has managed to expertly mélange glamour with good cooking. Here's why it comes so naturally to her: "What I do in the kitchen is try to build confidence for women with food. The ability of knowledge is empowerment and I do that through cooking and making them feel comfortable and special. I also think a woman's confidence has a lot to do with her hair, and whether you realize it or not, we really define ourselves through our hair. I think looking great makes you feel great and puts out a wonderful image when you go out into the world. I try to bring glamour and beauty to cooking," says Giada. Here's how:
5 Beautifying Smoothie Recipes
1. Even though she's no-fuss with her hair, she always wants it to glow.
"I have a four year old daughter and I work full time and, to be honest, I'm sort of a get up and go person with my hair," reveals Giada. So when she needs to give her hair a boost, she puts her little one to bed, then applies Clairol Natural Instincts in Toasted Almond ($8.99, pgestore.com), an ammonia-free demi-permanent hair color that only takes 10 minutes to process. "It gives my hair great shine, masks gray hairs and highlights my golden tones. My hair glows," she says. Giada also uses the conditioner that comes with the kit every week. "I apply it from half way down my hair, massage it in and let it sink in for a few minutes, then I quickly comb from top to bottom and rinse it out," she says. This leaves the ends of her hair soft and silky without weighing down her roots.
2. She exfoliates every day with her own homemade recipe, of course.
"Every single night I exfoliate my face, neck and hands with a mixture of baking soda and olive oil. It is very gentle, and keeps my skin very soft and smooth," says Giada. When she has time, she'll also use it to exfoliate her whole body. "It's also a great way to lighten up your skin if you used a self-tanner that came out too dark," she says.
3. She pays a lot of attention to her hands.
"I'm on camera with my hands in the spotlight all the time," says Giada. To keep them soft and smooth, in addition to daily exfoliation, she'll massage them with olive oil. "Creams are great, but they have a lot of water content so it sits on the surface of your skin. Olive oil penetrates better and you need just a tiny bit. It really gets into my cuticles and it makes my nail polish shine even if it's starting to wear out," she says. As for her signature nail polish shade, she applies three coats of Essie Polish in Ballet Slippers, followed by Essie Good To Go Top Coat ($8 each, Essie.com).
4. She wears a lot of lip balm, for good reason.
"Lately I've been using the Rosebud Strawberry Lip Balm. My daughter loves the smell and taste of it, so she kisses me more often. That's my incentive," laughs Giada. ($7, Sephora.com)
5. She goes old school with a sink of ice.
When she's feeling really tired and puffy, she'll use this trick her grandmother taught her: "I put ice in the sink, even if I'm in a hotel, and then set my timer and stick my face in it. I'll try to handle a minute, otherwise I'll do 30 seconds. It takes away the puffiness, and helps with the circles around my eyes. It closes everything up and shrinks you," she says.
6. She's a yogi.
Four days a week, she'll get up at 5:30 a.m. to practice yoga. "I do a lot of sun salutations to get the blood flowing and breathing. I also do a lot of core work and push-ups," she says.
The Breakfast That Helps You Lose Weight
7. She swears by a green shake for breakfast.
When Giada is feeling run down, she'll start off her day with a green shake for breakfast. Her recipe: half a head of kale (stems removed, only leaves), half of a cucumber (peeled and seeded), one red apple (peeled and seeded), ice and a little fresh organic apple juice. "It really makes you feel light and energized," she says.
8. She'll eat a little bit of everything, but not a lot of anything.
Of course it's a wonder as to how she can be so slender and fit when she spends her days whipping up delicious meals. "I don't deny myself anything, but I won't eat too much of anything either," she says. So what if you don't have the same level of will power? " I tell people all the time when they go out dinner, either order an appetizer version or if the restaurant won't do that, ask to put half of your meal in a doggie bag before they even bring it to you. A lot of people can't say no when it is on the plate in front of them," says Giada.