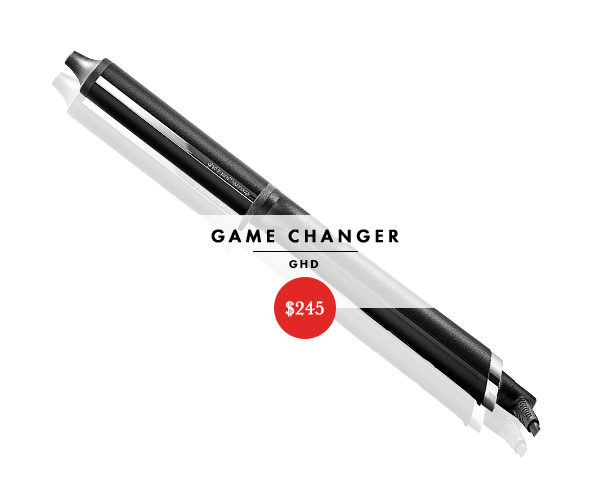 There are plenty of people who just have a "knack" for hair, but I'm not one of them. In fact, I'm not even close. I have two default hairstyles, messy and messier, and my styling capabilities are limited almost entirely to air-drying, then applying product on said air-dried hair. Needless to say, with my distinct lack of experience, I'm none too skilled with the hot tools. All attempts to blow-dry are abandoned halfway through, and despite my craving for the perfect loose, tousled beach waves on the daily, I've always steered clear of curling wands and irons because a) danger, high voltage and b) I'm just never able to get the look I want.
Upon expressing these frustrations to a fellow beauty editor, she recommended the Beachwaver. It pretty much does everything for you, which both appeals to me in a general sense and guarantees that you can't really go wrong, and if you do, it isn't really your fault. I used the Beachwaver for months before leaving it at a friend's house and neglecting to retrieve it, but the point is that it emboldened me. I'd become familiar with the motions and the right way to hold the tool, so if a rotating motor could do it, why couldn't I?
I quickly became the Goldilocks of curling ironsthis barrel's too small, this wand's only temperature option is Way Too Hot, this one gave me a second-degree burn on the back of my hand and I never want to see it againbut I would liken my introductory experience with the ghd Curve Classic Wave Wand to love at first curl. It's easy and straightforward to use, the temperature manages to be hot enough without being too hot (there's a very fine line!), and the slender, oval-shaped wand creates the perfect curl size. The texture errs on the side of wavy, so you don't run the risk of pageant child sausage curls, but the resultant waves really hold their shape throughout the day rather than falling too loose.
The most important thing, of course, is that not only do the curls look great, but the stable, safe temperature of the wand will not fry your hair. Take it from someone who has the insanely damaged, formerly double-processed steel wool hair of stylist nightmares: When I use this wand, I'm not worried about singeing a section of hair straight off my head, and it actually (somehow, miraculously) makes my hair look glossy and healthy, which are two qualities that my bird's nest has definitively heretofore lacked.
And if all that wasn't enough to convince you, here's the real closer: After thirty minutes without use, the Curve goes into sleep mode, which effectively eliminates all the did I unplug the curling iron?-related anxiety that one almost inevitably suffers immediately after leaving the house. Perfect hair and assuaged fears of burning your house downwhat more could we ask for?
More from Daily Makeover: How to Use a Curling Wand