It's no secret that the job market is hard to break into these days, so every little extra bit can help as the years pass and the time comes for you to have to break into the "real world." Over the next couple of weeks, Alexis Rodriguez, the Executive Director of Communications at Bobbi Brown, will be going through exactly what steps you should be taking each year of college to help you get an edge over the rest of your generation. Rodriguez has over twelve years of experience in the beauty industry, working with clients such as Stila, Sephora, MD Skincare, Kate Spade Beauty and Diane von Furstenberg Beauty. She also has her own personal blog, ThePRCloset.com, where she is constantly giving out advice on how to make it in the industry.

When I started college (a long time ago), I declared International Business as my major.  After a few failed attempts at passing math-related courses, I transitioned into Communications, took an internship at a beauty PR firm, and the rest is history.  I never really had a plan, and if I thought I did, it never involved working in beauty.  I kind of fell into this industry.  You, on the other hand, have identified beauty as your passion early on, so if you already know that you want to pursue a career in this industry, why not start planning ahead?
Welcome to Beauty Biz 101… This post is for college freshmen-to-be (ladies and gents) who know they want a career in beauty, but aren't quite sure how to turn that passion into a job.  Where do you begin?  Let's start with identifying positions in the beauty industry and suggested majors:
Beauty Editor:  Beauty editors work for magazines, newspapers, or beauty websites covering the latest in beauty trends and launches.  This includes generating, assigning, writing, and/or editing beauty-related content.  Suggested major: Journalism or English.
Creative:  The Creative/Art Department helps create the look and feel of the brand.  They design packaging, counter displays, printed collateral, websites, etc.  Suggested major: Graphic Design.
Makeup Artistry:  Being a makeup artist is a very technical job and you need the right training, a love for being around people, and the willingness to travel a lot.  The life of a makeup artist is demanding, whether it be working behind a department store counter or on the red carpet.  Be prepared to devote a lot of time to mastering the skill.  Technical training is key.  Suggested major: Cosmetology.  (If you want to go into hair styling, become an aesthetician or specialize in a beauty trade like nails, I suggest a specialized school/institute.)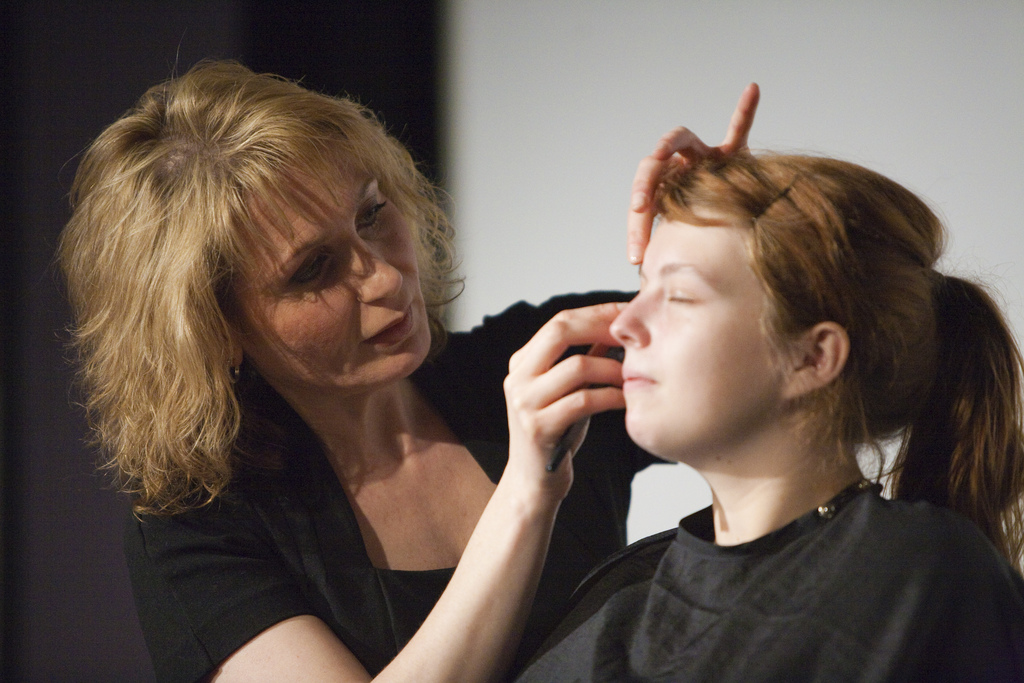 Marketing:  Marketers work collaboratively with all teams to develop the strategy, a.k.a. "marketing plan," to successfully bring products to market based on a concrete need in the industry.  Marketers know how to identify, satisfy and keep the customer, and drive a business's growth and profitability. Suggested major: Marketing, Finance, or Economics.
Product Development: The product development team is responsible for actually creating the products with the chemists and research and development (R&D) teams.  They understand the consumer and anticipate his/her needs to create products that the customer wants.  They are both creative and analytical, and involved with the concept, creation, manufacturing, and distribution of products. Suggested major: Chemistry, Marketing, or Finance.
Perfumer: Fine fragrance perfumers create perfumes for fashion houses. Functional perfumers design scents for products such as shampoos, detergents, and antiperspirants.  Each project involves creating a fragrance formula by combining fragrance molecules, which is both a science and an art. Suggested major: Chemistry.
Public Relations/Events: Beauty publicists secure press for their brands and maintain the brands' public image. This includes working with all types of media to get your client/brand featured on TV, in magazines, and online; planning events; crisis communications; writing press releases, speeches and PR collateral; and managing social platforms.  Suggested major: Communications, Public Relations, or Journalism.
Now that you have a better understanding of some beauty career choices, you have an entire summer to think about what you might be most interested in studying.  And don't be overwhelmed.  You don't have to declare a major right away, so take some of the courses above and see how it goes. Think of it like a lipstick or fragrance.  You'll try a few before you find the right one. Now you just have some good direction…