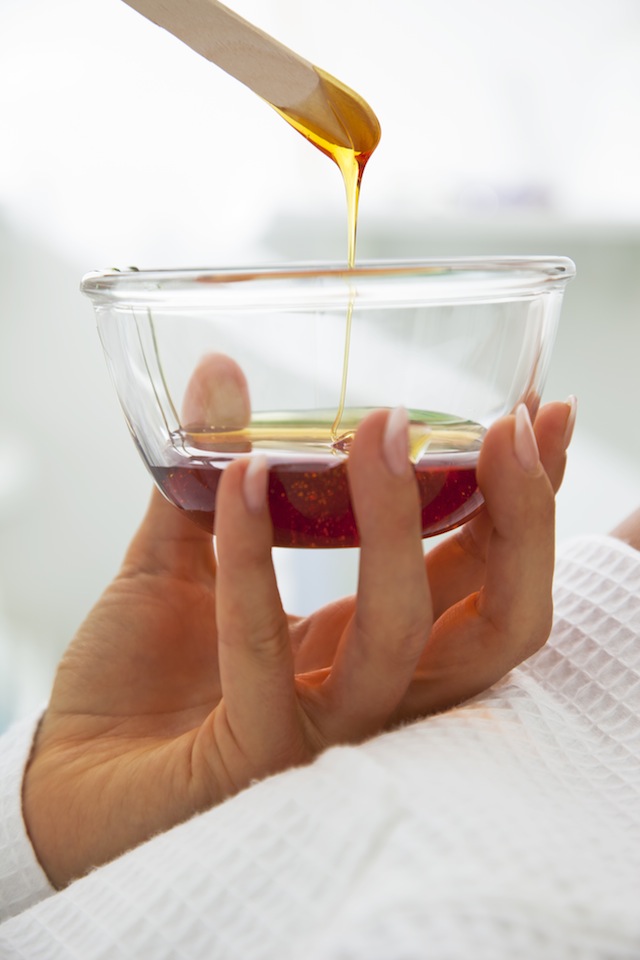 Waxing tends to be a love it or hate it beauty treatment – some girls are cult followers, and others would rather just well, either shave or pull a Gwyneth. If you've hesitated getting a wax simply because you don't know what you're in for, we can fix that for you – we've gotten tons over the years and tested all sorts of different types and places. But, what good is knowledge unless it's shared, really?
While waxing may not be the most pleasant beauty experience on the planet (we'd all much rather be getting a massage) it tends to be one of life's necessities for females – and some well-groomed males. There's no need to dread the treatment like the plague, though. We have a ton of tips and tricks for you to make the process a bit more, well, manageable.
1. Don't Get a Wax While You're PMSing: Everyone knows that you're more sensitive when you're premenstrual, and this is true for your nether regions as well. So, don't schedule a wax for this time of the month either – it will simply hurt even more.
2. There are Numbing Creams, and They Do Work: There are a lot of different numbing creams out there for purchase now (even numbing panties!) such as BareEase & Cream that include Lidocaine to help numb the area and ease the pain.
MORE: Waxing 101: Important Details to Know
3. Pop Some Advil Before You Go (It May Just Give You Peace of Mind): If you know you're sensitive to waxing, take one or two Advil before you go to help numb the pain (which tends to be easier than cashing in on a numbing pain, and will do the trick – even if it simply acts as a placebo).
4. Hygiene Really Does Matter: The hygiene that is happening at your waxing salon really does matter. If your esthetician uses the same vat of wax on you that they used on their last client, get out of there – or if they're constantly double-dipping – ick! Some of our favorite places are the ones that create individually mixed wax for each new client (rather than using a new stick to apply each strip of wax).
5. All Waxes Are Not Created Equal: There are several different types of waxes, and you'll probably eventually find one that you prefer. They can basically be divided into two categories: Hard wax and soft wax. Hard wax is removed without strips (it can act as the strip) and soft wax is applied with paper and tends to be used for larger areas of the body.
6. Shaving Actually Makes Matters Worse: Frequently shaving between your waxes can actually make your next wax more painful, because the hair follicles will be more rough, and harder to remove. So, although no one wants stubble, it's worth it to be patient and simply wait until your next appointment instead of grabbing that razor.
MORE: The Best At-Home Waxing Kits
7. The More You Wax, the Better Off You Are: Once you get into the habit of waxing, your hair tends to "remember" the routine and won't grow back as quickly. Obviously, this changes from person to person, but many people experience a slow-down in hair growth as they get into a routine (waxing every 3-4 weeks tends to be the norm).
8. Exfoliate Down There: If you want to prevent ingrowns after you wax, remember to exfoliate down below also. This simply helps to make sure that your pores don't clog.
9. Stay On Schedule: Many salons offer "touch-up" appointments if you simply want to get a quick grooming in but aren't at full growth yet. This is helpful for those who are prone to grab the razor if you see any stubble. Regardless, it's helpful to stick to a waxing schedule (most people can last 3 or 4 weeks, like mentioned above) to train yourself to get into a routine – like getting your roots done.
10. There are Lots of Different Types, Figure Out What You Want: There can be a hundred different names for a bikini wax when you go from salon to salon – and you need to decide if you want just your bikini line done, the whole Brazilian, or even the front and back. There are a lot of options, and a lot of different ways to describe it. Most salons have menus (with descriptions) to make it easy for you – but if you ever have questions just ask (before you get in the room with the wrong appointment booked)! It's the esthetician's job to explain the procedure, and they'll be more than happy to get the service right.
Photo via Thomas_EyeDesign/Getty