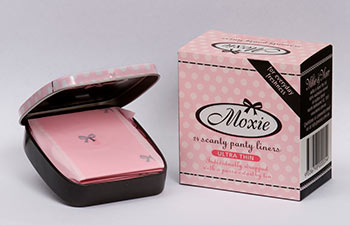 Last week as I was on my way to a late night movie showing when I received a call from my 11-year-old sister. She was excited and nervous on the phone as she told me her big news: she had just gotten her period. She wasn't sure what she should know and, as her big sister, she wanted to ask me everything.
Once I had stopped tearing up and answered all of her questions, I had a moment of panic for her. Growing up is hard enough, but it's always worse on those girls that start to develop first. At 11, most of her other schoolmates are more concerned with what's on Nickelodeon tonight than what kind of sanitary pads they should be using.
Girls can be cruel, especially to those early bloomers. It only takes one of them to see you with that telltale flat wrapped pouch in your hand before the teasing starts. I remember a few young classmates being reduced to tears by a mean girl's mocking or an obnoxious boy's taunting. I definitely don't want my little sister to go through that kind of torment.
It doesn't help that the personal products category isn't exactly what you'd call attractive. I know it's supposed to be more about performance than looks for this particular aisle in the drugstore, but can't they look nice AND work well?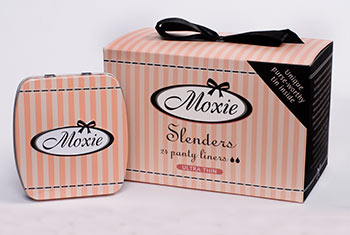 Thankfully, a new brand on the market is looking to change that. Moxie, a recent Australian import that's exclusively available at Duane Reade this month, features uber-girly packaging that's designed to make you feel a little more glamorous around that time of the month. What I love most about the pantyliners and pads is that not only do they feature pretty pink wraps and cute little bows, but they also come in these ultra-discreet striped metal tins. No more hiding your personal products up your sleeve or in your pocket when you dash to the loo.
They're great for us big girls who want something a little more sophisticated than an old makeup bag to stash our stuff in or for the little girls who don't want a pack of pre-pubescent boys to know what they're carrying in their bags. Girly and discreet, it's just what my little sis (and I!) need.
As one the web's largest beauty sites, DailyMakeover.com constantly receives products from beauty companies for editorial review. Please read our Editorial Ethics Pledge if you'd like to know how we select products to feature.