Your sandal collection may have gone into hibernation, but that's no excuse to ignore your feet. With all the foot pampering goodies available now, it's easy to treat yourself to an at-home pedicure just as luxurious as one you'd get at a spa. Add in some quality living room TV viewing time, and the DIY route looks even better. Ready to try our simple step-by-step?
*If you're short on time, we've provided a 10-minute version of the pedi as well.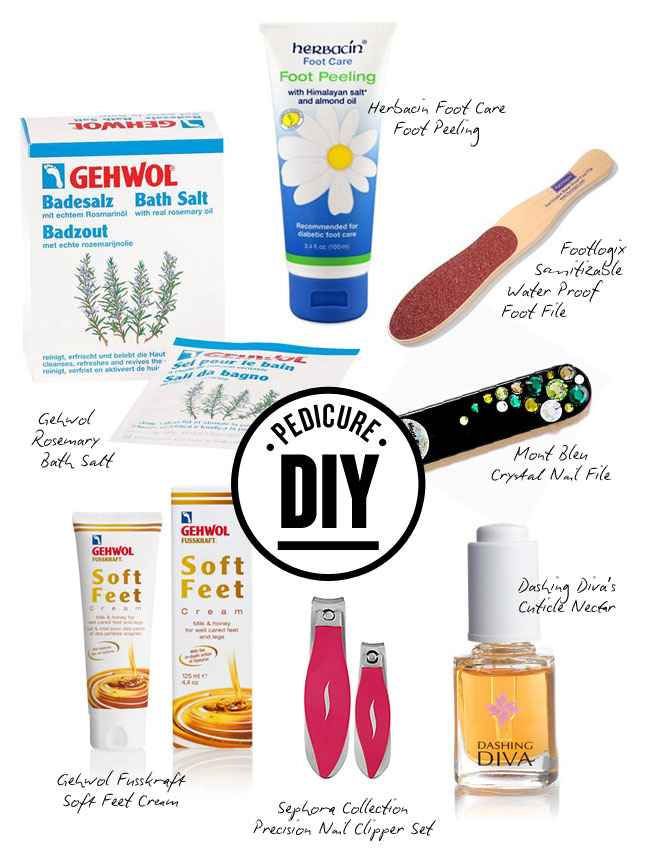 Step 1: Start with clean, unpolished nails. Start by soaking your feet in a cleansing bath, such as Gehwol Rosemary Bath Salt ($19, Gehwolonline.com), for a relaxing ten minutes before you start. Aside from cleansing and even strengthening the skin, the salt even stimulates circulation.
10-Minute Pedi: Skip the bubble bath, but make sure to clean each nail with nail polish remover.
Step 2: Apply cuticle oil on the nail beds. We love Dashing Diva's Cuticle Nectar ($12, Dashingdiva.com). Push back any dead skin on the nail plate with an orange stick.
10-Minute Pedi: Just apply the cuticle oil for a quick fix to noticeably cracked cuticles.
Step 3: Exfoliate your feet with Herbacin Foot Care Foot Peeling ($13.99, Herbacin.com) to rid the skin of dead cells. This foot peel is such a find because it's an exfoliator specifically for the feet, and furthermore, great for sensitive skin. The natural ingredients of avocado oil, almond oil and camomile remove callus and smooth the skin. Massage gently in circles and apply more pressure to areas with severe calluses.
10-minute pedi: Use a foot callus file, such as Footlogix Sanitizable Water Proof Foot File ($14.95, Footlogixonline.com), to smooth any clearly visible calluses. Remember to smooth, but not break the skin.
Step 4: Gently massage the skin with lotion. My new obsession is Gehwol FusskraftSoft Feet Cream ($32, Gehwol-usa.com), a new formula of milk and honey extracts that provides extra moisture and protects against excess callus.
10-minute pedi: Sorry, you don't want to skip this step.
Step 5: Trim your nails with the Sephora Collection Precision Nail Clipper Set ($10, Sephora.com) that includes one clipper for fingers and another for toes. To smooth edges, use a glass file. Unlike paper and metal files, glass won't peel or split your nails. Unknown gems I came across last year are the Crystal Nail Files by Mont Bleu ($10, Design-glassware.com). They are decorated with gorgeous Swarovski crystals and come in tons of different designs.
Will you try the salon pedi experience at home?