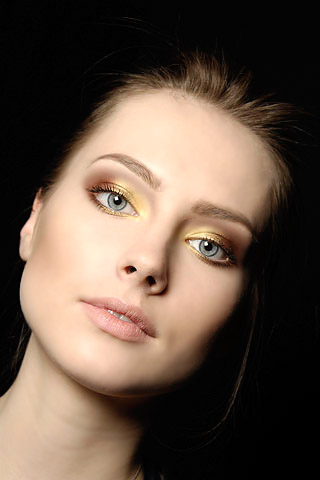 Style.com
It's here! The holiday season is upon us and yes, of course, you want to be spot on with the hottest beauty trends for this year's festivities. Well, it's all about a metallic eye, but don't worry–it's subtle and everyone can wear it. Silver, copper, bronze, and gold are just really fun versions of very wearable neutrals.
Here's a metallic look I love from the Tuleh Fall '08 Runway. To recreate it, first you need to decide which metallic shades you want to play with. I like silver and bronze together or a combo of gold and copper. Go for powder shadows instead of cream formulas because they are easier to blend.
Sweep the gold or silver shadow over your lid, starting at the inside corner and stopping about half way across the lid. Next, dust the copper or bronze shadow on the outer half of your lid, blending slightly up into the crease. Sweep the same shadow under the outer half of your lower lashline. Finally, rim the roots of your upper lashline with black eyeliner, and apply two coats of black mascara to top lashes only.
Pair this festive eye with a very neutral blush and lip color in nude tones so you look balanced and not overpowered.
Now get ready to party!