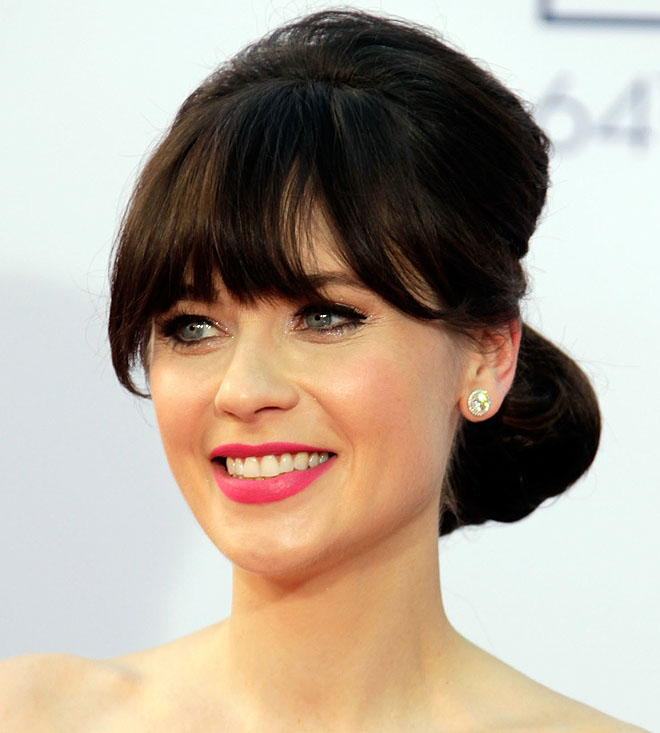 I always have such high hopes for Zooey Deschanel when she walks the red carpet, and last night the New Girl star did not disappoint. From a beautiful updo to a truly unique mani, the actress had every detail covered. The experts behind her show-stopping look are spilling their secrets, so you can get the same vintage-inspired glamour at home.
Makeup
"She's a risk-taker who follows her instincts," says makeup artist Jorjee Douglass, who created a beautiful makeup look to offset her striking blue Reem Acra dress.
Step 1: Begin by priming the skin with Hourglass Veil Mineral Primer ($52, Sephora.com), and follow with Hourglass Illusion Tinted Moisturizer ($39.50, Dermstore.com).
Step 2: Finish the skin with Hourglass Oxygen Mineral Powder ($46, Sephora.com).
Step 3: Apply Hourglass Aura Sheer Cheek Stain in Flush ($45, Sephora.com) and top it with Dior's Rosy Glow in 001 petal ($44, Sephora.com).
Step 4: Start with the light shimmer shade of Hourglass Vol. 6 Eye Palette ($58, Barneys.com) across the whole lid, then contour the crease of the eye with the brown and black colors; and finally, blend the whole lid with the pink.
Step 5: Shimmer the entire lid with Beauty is Life Perfect Shine Eyes in Everest ($25, Barneys.com).
Step 6: Frame the eyes using Hourglass Calligraphy Liquid Eye Liner in Ebony ($32, Sephora.com) and Hourglass Script Precision Liquid Liner ($32, Sephora.com). Line the top in a cat shape bringing it out past the lid and the lashes. Lining under the eyes, start from the middle of the eye and go straight out –making it a princess version of Cleopatra's eye.
Step 7: Complete the look with Hourglass Opaque Rouge Liquid Lipstick in Ballet ($28, Barneys.com).
Hair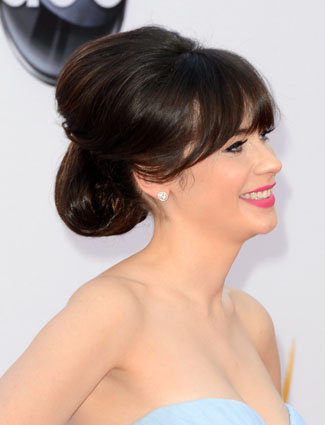 Stylist Mara Roszak used Zooey's dress as inspiration for the elegant, Old Hollywood updo she created. "We both decided her hair should be up and off the neck," Roszack said, "keeping the hair soft, feminine and elegant."
Step 1: Start by applying Pantene Normal to Thick Flowing Body Mousse ($3.99, Drugstore.com) to damp hair.
Step 2: Blow out hair with a boar bristle brush and set it in rollers for extra volume.
Step 3: Spray Pantene Fine Hair Style Touchable Volume Hairspray ($5.29, Walgreens.com) all over to help set the hair. Remove the rollers and then gently brush the hair out.
Step 4: Use a fine tooth comb to create a 60's inspired bump at the crown of your head. Pull the hair back into a mid-height ponytail and pin the ends under, creating a tucked chignon.
Step 5: Finish off the look by spraying Pantene Normal to Thick Anti Humidity Hairspray ($6.99, Target.com) all over for extra hold throughout the night.
Nails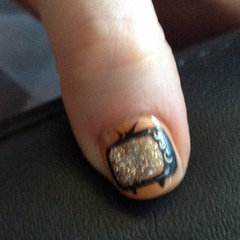 Zooey and Tom Bachik, L'Oréal Paris Consulting Nail Expert, wanted to keep this look soft and fresh but sparkly, so they went with a soft summer tone personalized with glitter, Swarovski crystals and hand painted TV's on featured fingers.
Step 1: Use a thin coat of L'Oréal Paris Colour Riche Nail in Tweet Me ($5.99, Ulta.com) topped with a coat of a peachy pink shade, like L'Oréal Paris Colour Riche Nail in Sweet Nothings ($5.99, Ulta.com), to soften the tone.
Step 2: Use a chunky silver metallic to apply to random areas on the nails and then fade the glitter out.
Step 3: Use Swarovski crystals (Wait, you don't have those just lying around? Ok, any type of fake sparkle will do!) in the glitter areas to create a peach "galaxy."
Step 4: And if you're really artistic, hand paint deco televisions on the thumbs for fun!