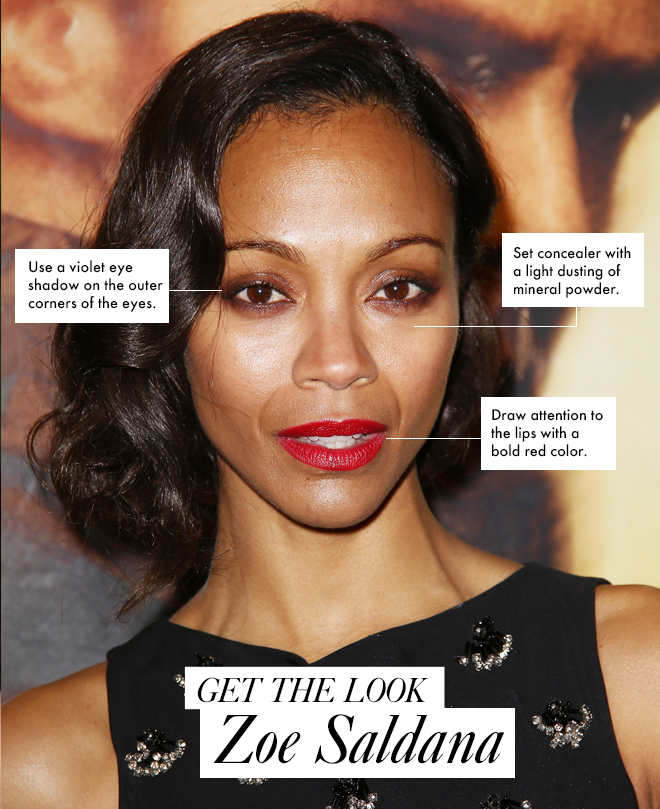 With The Great Gatsby coming to theaters soon, I can't get enough of 20s-inspired beauty, which is why I love this Zoe Saldana look created by makeup artist Vera Steimberg for the Star Trek Into Darkness movie premiere in London. While the lips were the clear focal point, carefully placed contour and soft eyes helped perfect the look.
Lips
Steimberg applied Laura Mercier Crème Smooth Lip Colour in Portofino Red ($26, lauramercier.com) to Zoe's lips to give her a "bright, yet elegant final look."
Eyes
First, Steimberg applied Laura Mercier Crème Eye Liner in Espresso ($22) onto the lash line using an angled eye liner brush.  Next, she applied Laura Mercier Baked Eye Colour in Terracota ($23) over the entire eyelid and then applied Laura Mercier Baked Eye Colour in Violet Sky ($23) to the outer corners of Saldana's eyes. To contour the eyes, Steimberg mixed Laura Mercier Luster Eye Colour in Bamboo ($23) with Laura Mercier Matte Eye Colour in Coffee Ground ($23) and applied to the eyelids. Zoe's eyes were finished off with multiple coats of black mascara.
Face
Steimberg covered imperfections using Laura Mercier Secret Camouflage in SC-6 ($30), which gave Saldana a natural look. Next, she lightly dusted Laura Mercier Mineral Illuminating Powder in Candlelight ($32) to set the concealer.  To give Zoe's cheeks a hint of color, Steimberg applied Laura Mercier Crème Cheek Colour in Blaze ($24) to the apples of the cheeks and layered Laura Mercier Second Skin Cheek Colour in Spiced Cider ($24) on top to give the cheeks more color.
Do you like Zoe's glam makeup?