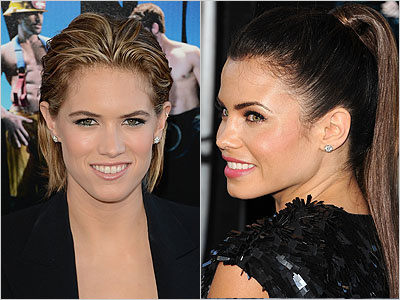 Photos: Getty Images
You've seen the sleek hair look done time and time again, but mostly on the catwalk. And honestly, how often do you see a hairstyle from the runway that you would wear on a daily basis? So, finally we saw two actresses, Jenna Dewan and Cody Horn, pull off the look this past weekend at the Magic Mike premiere in Los Angeles. Check out quick tips below on how to do it yourself!
Get The Look: Elizabeth Banks' Sultry Waves
Jenna Dewan's Sleek High Pony
Ponytails aren't what they used to be; they are so much better. Whether they are pulled to the side, braided or planted on the top of the head, they now give off this sultry sophisticated aura. And the best part about them? They are so quick and easy!
Step 1: Although many are wary of applying oil to roots, it is the best way to get hair to slick back so perfectly. Apply Josie Maran Argan Oil ($48, Sephora.com) before blow-drying. Then apply a few dabs more to smooth away any flyaways.
Step 2: Lean your head down and pull hair up with a brush or comb. Gather hair at the crown and hold with an elastic.
Step 3: Wrap a small section of hair around the elastic to conceal it.
The Worst Heidi Braid We've Ever Seen
Cody Horn's Sleek Pull Back
We love this look because it looks so natural, although a few products are necessary to perfect it. And with beach season in full bloom, this look couldn't have come at a better time.
Step 1: Apply an extra firm hold gel, such as Paul Mitchell Extra Body Sculpting Gel Firm Hold ($22, FragranceNet.com) to damp hair and comb through the top half.
Step 2: Using a paddle brush, take turns blow drying hair in different directions. wrap hair around your head while blow drying. This will give your hair a little movement like Horn's.
Step 3: Using your fingers, pull sections at the hairline in different directions to add fullness.
Did Jenna and Cody make this trend wearable enough? We're kinda digging it.