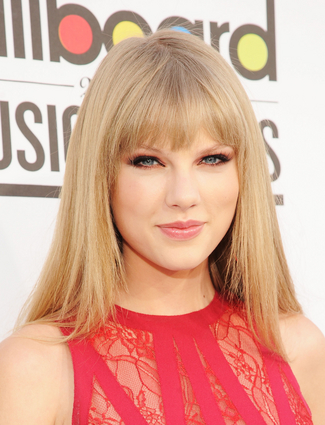 Photo: Getty Images
By day, a natural makeup look is great, but by night…it's a whole different story. We love a daring smoky eye but sometimes a pop of color is what we're after. Take Taylor Swift's red eyeshadow at the Billboard Music Awards, for example. The singer is known for her simple and yet, elegant style, but she really rocked this look. Here's how to enjoy the red eyeshadow trend without looking like a lobster.
Instagram Inspiration: Summer Ponytails
Step 1: Apply a light foundation such as COVERGIRL Natureluxe Silk Foundation ($9.99, Walgreens.com) to create a smooth base.
Step 2: Brush a light powder such as COVERGIRL Queen Collection Lasting Matte Pressed Powder ($6.49, Drugstore.com). The great thing about Taylor's complexion is that, because it's so light, the red really pops out. (For darker skin tones, you are going to want to go with a darker red).
Step 3: Dab an eye primer for a strong base.
Step 4: Apply a red eyeshadow such as the cranberry color from COVERGIRL Eye Enhancers 4-Kit Shadow ($4.99, Soap.com) all over the lid. Blend the shadow upward by lightly dabbing a little shadow above the lid line. Open your eye to make sure that the red fades above the lid. You want subtle color like Taylor's, not a color blocking look.
Step 5: Using an ultra fine eyeliner brush, apply a light coat of the red shadow on the bottom lash line.
How To Make Your Eyes Look Bigger
Step 6: Apply a dark, but thin coat of black eyeliner, such as COVERGIRL Liquiline Blast Eyeliner ($7.49, Target.com), on the top lash line. Bring the line all the way in for an edgier effect.
Step 7: Apply a light coat of black eyeliner on the bottom lash line. Only apply halfway across the line to open the eye a bit.
Step 8: Finish with two thick coats of COVERGIRL LashBlast Volume Mascara ($8.99, Drugstore.com). We may not all have voluminous lashes like Taylor, but with a few coats using this thick brush, you will get bold voluminous lashes.
The long weekend is quickly approaching and although, we may not all be heading for a tropical vacation, this makeup look brings a fun, flirty feel anywhere. Are you daring enough to try Taylor's red eyeshadow?