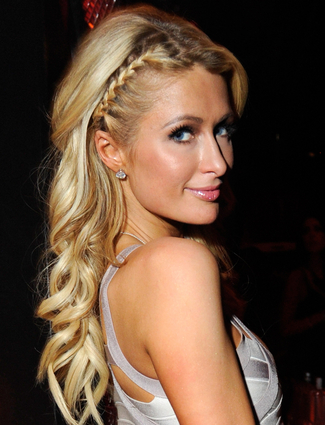 Photos: Stockbyte
Summer is officially (ok, unofficially) here and not surprisingly, we have braids on the brain. While they are essential beach attire, Paris Hilton proved last weekend that they are also the perfect accessory for a formal occasion. We love this half headband braid that added a little spunk to her perfect coils. Here's how to get the look for your next big night…or your first trip to the beach.
Get The Look: Naomi Watts' Glowing Skin
Step 1: Apply a conditioning crème, such as Oribe Supershine Moisturizing Crème ($49, Oribe.com), to smooth strands.
Step 2: Spray a heat protector, such as Aussie Heat Protecting Shine Spray ($3.99, Drugstore.com), before curling ½ inch strands with a ½ inch barrel curling iron. Focus on curling the bottom of the strands tighter than the top for a more natural look.
Step 3: Create a center part and gather an inch of hair on one side for the braid.
Step 4: Starting at the top, start to Dutch braid, or French braid inside out. So, instead of folding outside strands over the middle strand, fold the strands under the middle strand.
Step 5: Finish the braid right behind the ear and hold in place with a bobby pin.
Step 6: Apply a light hold hairspray, such as Paul Mitchell Super Clean Light Hold Finishing Spray ($15.99, Walgreens.com), only over the braid. The curls are meant to look subtle and natural; you don't want that crunchy effect.
Are you going to try Paris' effortlessly chic headband braid?