At the premiere of Oz: The Great and Powerful, Mila Kunis inspired us to try the "effortless glamour" look, as her makeup artist Tracey Levy so perfectly called it. Mila paired the soft makeup with a natural textured updo, courtesy of celebrity hairstylist Mara Roszak. Here's how to get her complete look, perfect for strutting down the Yellow Brick Road.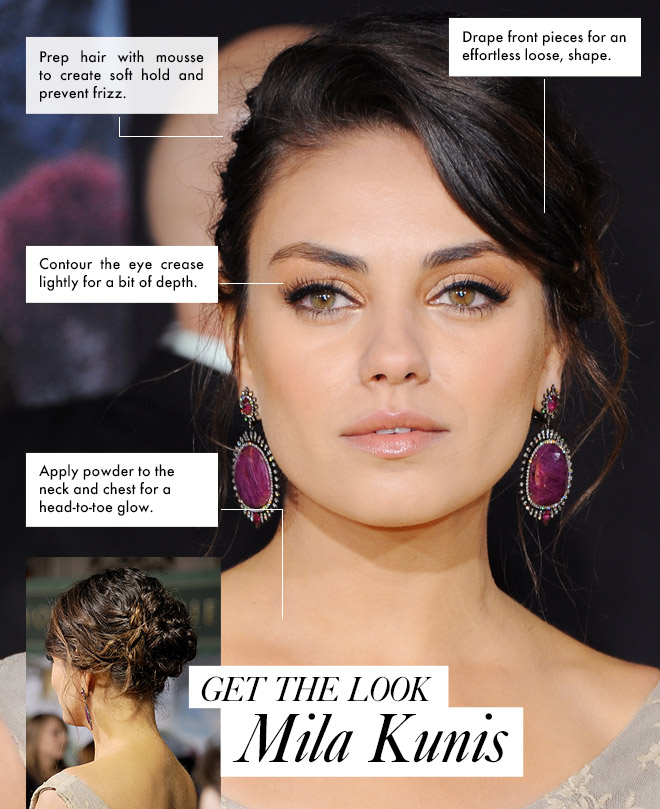 Makeup
Tracey Levy created a look that was "natural but effortlessly glamorous" with a "light touch of Audrey Hepburn."
Skin
Tracey prepped Kunis' skin with RéVive Intensité Moisture Serum Extrême ($350, reviveskincare.com) to restore the skin's natural moisture, followed by Laura Mercier Foundation Primer ($32, lauramercier.com) to help her makeup look fresh through the entire evening. She used a touch of Secret Camouflage in SC-3 ($30, lauramercier.com) around her nose and under her eyes to conceal imperfections. Tracey then contoured Kunis' cheekbones using Bronzing Powder in Golden Bronze ($32, lauramercier.com) and dusted the powder on her neck and chest to give her a glow from head-to-toe. She used Shimmer Bloc in Pink Mosaic ($40, lauramercier.com) to highlight the upper cheekbones and to provide a light dusting of shimmer. Then, she applied Second Skin Cheek Colour in Rose Petal ($24, lauramercier.com) on the upper apples of Kunis' cheeks and blended the shade with the existing shimmer.
Eyes
Tracey created a golden hue to "add richness that wouldn't draw away from the dress."
She started with Eye Canvas in EC-2 ($26, lauramercier.com) to ensure that Kunis' eye makeup would last the entire evening. Next, she contoured her eye crease lightly with Matte Eye Colour in Café au Lait ($23, lauramercier.com) for depth. Caviar Stick Eye Colour in Rose Gold ($24, lauramercier.com) was used as a highlight on the lids. Tracey then used Crème Eye Liner in Noir and Violet ($22, lauramercier.com) to line Kunis' eyes "for a bit of drama."  She also applied Tightline Cake Eye liner in Black Ebony ($23, lauramercier.com) along the lash line. Next, she filled in Kunis' eyebrows with Eye Brow Pencil in Deep Blonde ($20, lauramercier.com) and set them with Eye Brow Gel ($20, lauramercier.com). Tracey finished with two coats of Faux Lash Mascara ($24, lauramercier.com) to Kunis' top and bottom lashes.
Lips
Tracey applied a coat of Lip Silk ($22, lauramercier.com) to the lips to give a final boost of moisture. She then lightly lined Kunis' lips with Lip Pencil in Natural ($22, lauramercier.com) and filled in the lips with Crème Smooth Lip Colour in Angelic ($26, lauramercier.com). She completed the look with a swipe of Lip Glacé in Sparkling ($24, lauramercier.com).
Hair
"I wanted her hair to be up and back to showcase the graceful neckline of her dress, and to have a soft, whimsical feeling with a gentle, natural texture," said Mara Roszak.
After starting with a dab of Moroccanoil Treatment ($43, moroccanoil.com), she applied Moroccanoil Curl Control Mousse ($23.20, moroccanoil.com) to her damp ends and rough dried. "This created a soft, natural hold, and helped to seal in moisture and prevent frizz." Then, using a 1-inch curling iron, she touched up her natural wave by curling random sections, alternating the direction of each wave. To hold the texture, she sprayed with Moroccanoil Luminous Hairspray Medium ($22.20, moroccanoil.com). "I left the front pieces around her face out, pulled her hair back and wrapped it into a bun-like shape and pinned as I twisted. I loosely formed the front pieces of her hair to drape gently across her forehead, creating an effortless loose shape, and secured it with bobby pins." She finished with Moroccanoil Luminous Hairspray Strong ($22.20, moroccanoil.com).
Read more: Get The Look: Rachel Weisz's Sleek Low Bun