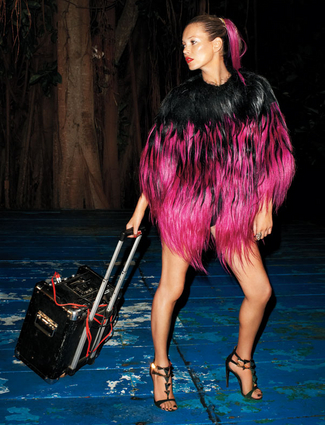 Photos: Harper's Bazaar
With so many celebs trying the neon hair look, we're kind of curious to do the same. The biggest concern, of course, is how to wear neon hair extensions without looking like you're on your way to a rave.
Luckily, Kate Moss sported the trend in the July issue of Harper's Bazaar in colored extensions that make the style easy and temporary. Here are the step-by-step instructions for applying SOBE Organics Fantasy Color Tape Extensions ($12.99 to $25).
10 Summer Hairstyles To Beat The Heat
Step 1: Section your hair to a piece of equal width and thickness to that of the SOBE Organics Seamless Tape Extension.
Step 2: Remove the tape backing and sandwich it over your natural strand. Press and hold for 30 seconds.
Step 3: Style your hair as you normally would without the extensions. They can stay in place as long as three days if you don't wash your hair.
Step 4: To remove, spray SOBE Organics Remover Spray directly on the tape. Allow to set for two minutes and then remove the extension.
FYI: The extension can be used for multiple wears!
We've always been a little wary to try the trend because, well, it's a big commitment to try a color change. But an extension is a completely different story. What do you think of this temporary pop of color?