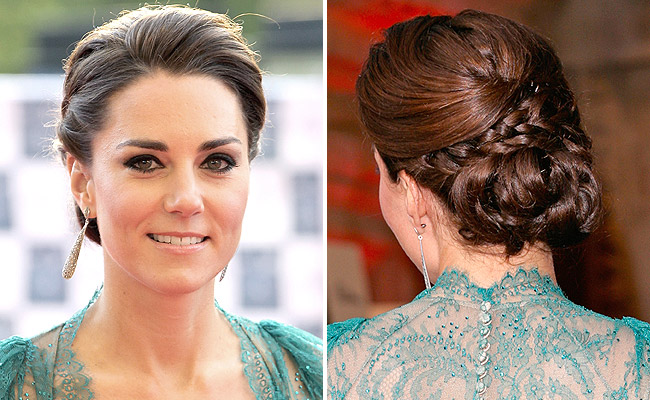 Photos: Getty Images
Who doesn't envy Duchess Kate's style? When we saw this braided chignon she wore last week at the Olympic-themed concert at the Royal Hall in London, we were given another reason. But good news: after fawning over the style for a while, we have figured out how to recreate at home. And luckily for us, the hairdo isn't as hard as it looks.
Step 1: Spritz your entire head with a soft coat of shine spray, such as Gold Glimmer Shine Spray by Moroccanoil ($24, stuff4beauty.com).
Step 1: From looking at the picture, you can see that you have to separate the hair into five sections – two pieces on top for the twists, two underneath for the braids and loose hair on the bottom for the chignon.
Step 2: Twist the top pieces and hold with bobbi pins at the crown of your head. When twisting, make sure to keep the hair a little loose to create that body Kate has in the front.
Step 3: Leaving the two sections below the twists to the side, gather the rest of your hair and place in a low chignon at the nape of the neck.
Step 4: Braid the two loose sections just below the twists. Kate has French braids but a classic braid would work just as well. Bring the braids toward the center and wrap around the chignon, keeping in place with bobbis.
Step 5: Finish with a light hairspray like Fekkai Sheer Hold Hair Spray ($24, soap.com) to keep hair in place without that crunchy texture we get from many hairsprays.
This updo may be a little too much for any old day but we are definitely keeping it in mind for our next big night. Will you try this princess 'do?