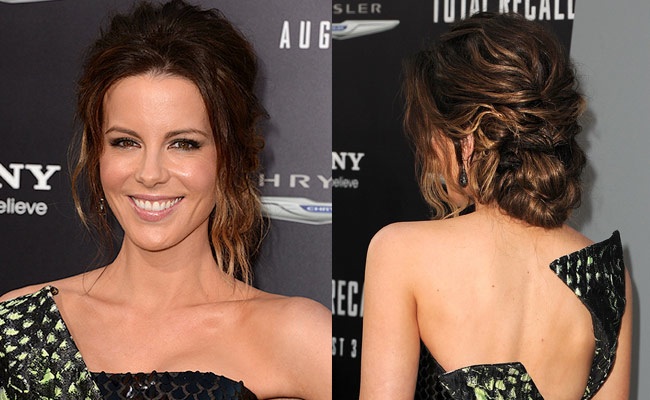 While I wasn't the biggest fan of Kate Beckinsale's reptile-inspired Armani Prive dress, her hair looked fierce at Wednesday night's Total Recall premiere. In an effort to match the texture of the gown, celebrity hairstylist Mara Roszak created an equally textured look with Kate's highlighted locks. She describes it as "edgy and undone, with an effortless feel." Here's a step-by-step to recreate the style:
Get The Look: Lea Michele's Intricate Braid Made Easy
Step 1: On towel dried hair, apply a styling mousse, like John Frieda's Frizz-Ease Curl Reviver Styling Mousse ($5.99, Drugstore.com), to tame frizz and give the hair texture and shine.
Step 2: Twist small sections of the hair around your fingers to create a loose tousled look. When the hair is completely dry, gently tease the crown for added height.
Step 3: Pull hair back into a loose braid. Tuck the ends of the braid under and pin in place with bobby pins, crossing the pins to secure the hold. Allow pieces to fall in the front and frame your face.
Step 4: To hold the style in place, first apply hairspray, such as John Frieda Frizz-Ease Moisture Barrier Firm-Hold Hair Spray ($5.99, Drugstore.com), to your fingertips. Pinch and divide sections of loose hair for added texture.
Step 5: Finish with a light coat of the holding spray.
Check out more Kate Beckinsale looks in Virtual Makeover!
What do you think of Kate's hairstyle? Will you try it?