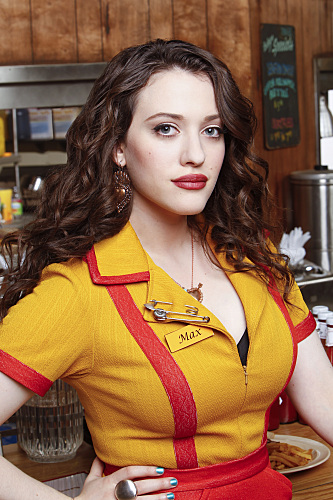 If you're a curly girl, then you've probably envied Kat Dennings' glossy locks before. Whenever she appears on the small screen in Two Broke Girls, each curl is perfectly defined and in place, making me wonder "What the hell am I doing wrong?"
Celebrity Hairstylist Pixie Schwartz is in charge of Kat's mane on Two Broke Girls, so she has all the tips to get Kat-worthy curls every time.
Step 1: Apply a curl enhancing medium hold mousse to damp hair at the roots and work through to ends. This will keep frizz at bay as you begin to diffuse.
Step 2: Divide hair into sections and spray on White Sands Liquid Texture Firm Hold Thermal Styling Spray ($19, whitesandsproducts.com)focusing first on the bottom layers. As you diffuse, you will work up by section until finally reaching the top of the head.
Step 3: Take a one-inch section and begin to curl by placing a small iron 3-5 inches away from the scalp. Roll iron under and towards scalp – most of hair will be hanging out of curling iron when you begin this step. (Tip: Alternate the direction of the curl as you work your way through each section.)
Step 4: Shake out hair and separate with fingers, applying a small amount of White Sands Orchids Oil ($20, whitesandsproducts.com) to finish.
Will you try this curling method?