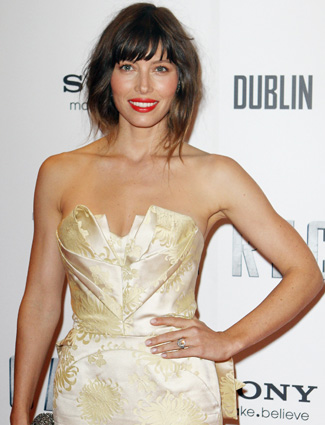 Don't you just love the warm glow Jessica Biel has developed since JT proposed? We'd be glowing too if the jaw-dropping hunk singer had just given us a rock, but Jessica has found a way to make her bride-to-be shine even more gorgeous. The actress was spotted at the Total Recall premiere in Ireland this week with a perfect summer night beauty look. The fresh makeup included rosy cheeks, a bronze complexion and summer-y red lips. Want to look like Jessica (honestly, who doesn't?)? Here's how you can create her summer night makeup look:
Related Video: Speedy Day-To-Night Makeup Tips
What you need:
BB Cream
Bronzing powder
Bright pink or red blush
Warm cream shadow
Bold lipstick
Skin
Begin by priming the face with a tinted moisturizer or BB Cream. We really like The Body Shop's new All-In-One BB Cream ($20, available Aug. 20), because it's super light, doesn't leave skin dry, and lasts up to 24-hours. It's OK if your skin is a little shiny, that's part of the look. Let the cream sit for a few minutes.
Related Article: 5 Makeup Brushes You Need To Own
Face
Lightly dust a loose bronzing powder, like Clinique Superbalanced Powder Bronzer ($34.50, Nordstrom.com), on the apples of your cheeks, the bridge of your nose, and on your chin.
Next, select a bold pink or red blush, like Physician's Formula Happy Booster Glow & Mood Boosting Blush in Pink ($12, Physiciansformula.com), and apply it to your cheekbones. To get it in the right spot, make a "fish face;" you really want to keep it far from your nose.
Eyes
Your eyes are not the most important part of this look—it's really about the skin. That said, you want it all to mesh well. Get Jessica's look by applying a cream shadow, like Make Up For Ever Aqua Shadow in Pearly Peach ($20, Sephora.com), to highlight your eyes. Apply eyeliner and mascara as you see fit.
Lips
At this point your face looks perfectly sun-kissed, but the key to making it night-friendly is by adding a pop of color. Jessica used a coral-red lipstick, but you could try anything from fuchsia, neon orange, to bright red. Just be sure to choose a matte product, so your face doesn't look too shiny, and exfoliate your lips before you apply for a long-lasting effect.
Related Article: Color Your Lips With Crayons
We love how summer-sweet Jessica looks. What are some of your favorite summer makeup looks?