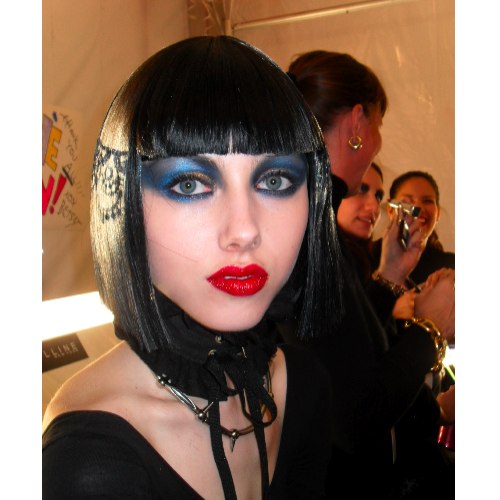 With Betsey Johnson, you have a pretty good idea of what you're going to get backstage, and on the runway avant-garde hair and makeup looks, fluffy silhouettes, wild prints, and an overall rockin' time. We were greeted with all of that, and a new side of Betsey – one that was a smidge grown up, a bit more sophisticated and nostalgic, but still knows how to party her socks off! The show, which consisted of both her collection and the new "He Loves Me" diffusion line, were two very distinct apparel and beauty looks.
For the diffusion line, which came out at the finale, 51 models, who were friends, family, and employees of Betsey Johnson strutted their stuff in printed jersry stretch knits, did their own makeup to mimick that of Betsey's signature look, as well as wigs identical to Betsey's blonde tresses.
For the collection, 35 models were adorned with the most draw dropping makeup, nail, and hair artistry one could possibly imagine. Spearheaded by Peter Gray for Redken, the wigs used were inspired by the Uma Therman bob, and cut right there backstage on the models. Gray says that he was inspired by the film, "Who are You, Polly Magoo?" and had about three weeks and five meetings with Betsey to get this look perfected. It was done this way because he explained that everyone's heads are different, and there could be longer pieces left if it wasn't customized in this fashion. The models' real hair was sprayed with Redken Fashion Work 12 Versatile Working Spray and first pulled to the top of the head in a pin curl and wrapped around, with just a single hairpin or two holding it in place. It was then secured via Redken Quick Dry 18 Instant Finishing Spray, which helped the wig to stay-put on the head. Next, the wigs were cut into a bob, and lace from Betsey Johnson's studio was placed on the head and secured with a pin or two, and sprayed with Kryolan Color Spray for Hair & Wigs in Gold D23. The lace acted as a stencil, and after spraying quickly, was removed. The wig was finished off with Redken Shine Flash 02.
Charlotte Willer for Maybelline dubbed the custom EyeStudio Color Plush Silk Eyeshadow palette "Midnight Excitement," which was a gorgeous quad of deep shades of blue and gold (available for sale in the US in September), intentioned to match the painted hair shade. Color was assertively applied, then blended out with a soft brush above and below the eye. "The inspiration was the Betsey girl, but the look was also taken somewhat into the 1920s,"clarified Willer. On the skin, Willer used the new Fit Me! Foundation and Powder, a lot of Volum' Express Falsies Mascara on the lashes, and topped off with a bright lip with the Color Senstational Catwalk Red.
"The theme is the inherent naughtiness that comes from a Betsey girl," reveals Nonie Creme, Founding Creative Director of butter London. "When you watch the catwalk, you will be surpised; the Betsey girl is now definitely high fashion; she's vampier and sophisticated, and getting her sex on," shares Creme. Creme was thrilled to be working again with Betsey Johnson (she's been with her for seven seasons), and really excited about the new custom color created specifically for the show, entitled "Wallis" (after Wallis Simpson). The color she created is predominantely gold and green, and to get this look now, Creme suggests starting with an empty bottle and starting with a lot less of the darker hues than you may actually need. Mix in black, gold, green, and grey, until you have found the perfect mix.