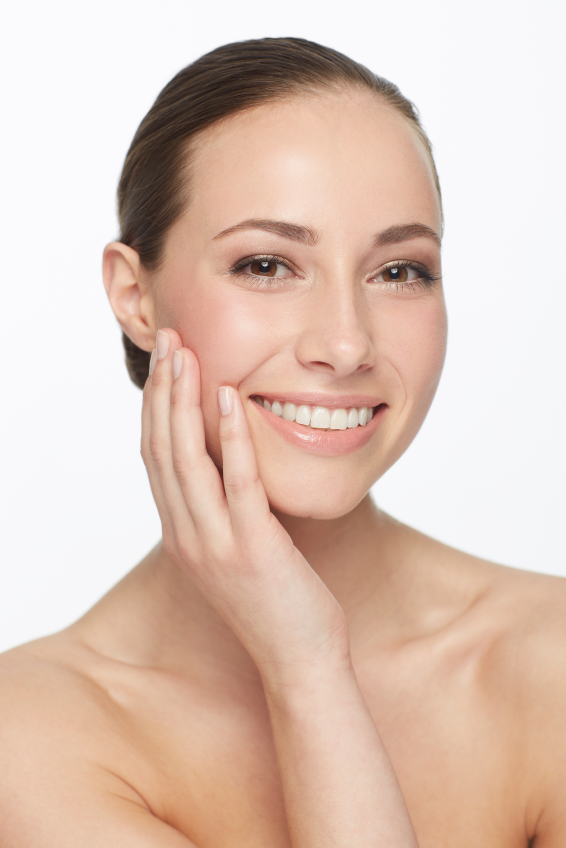 Get ready, ladies. Thanksgiving is a few short weeks away, and it'll be followed by month of holiday gatherings and photos. Much as you are hitting the gym now to get into that dress, it's time to start getting your skin into shape, too. In an effort to keep you looking gorgeous in those unavoidable photos, here are seven steps to glowing skin for the holidays (and all year long) straight from the skin experts.
Never skip the SPF: Even if you're freezing your toes off, sun exposure is still the enemy. Wear SPF daily to help protect your skin from fine lines and wrinkles.
Growth factors & peptides: Most potent anti-agers can take a couple of weeks to take effect. "Get a head start at repairing tougher lines and wrinkles by incorporating potent and fast-acting growth factors and peptides," says Marta Wohrle of Truth in Aging.
MORE: How to Get Glowing Skin For Your Next Big Date Night
Use cleansers, not soap: Although you may not realize it, that soap you are rub-a-dubbing can do a lot of damage. It strips away your natural oils, drying out your skin. Switch to a cleanser instead to keep your skin more balanced.
Exfoliate your neck and chest: Since more than likely you'll be wearing something that will reveal both the neck and chest, it's important to get this area looking smooth. "Apply a gentle facial scrub to the neck. Look up at the ceiling (to keep the skin taut while exfoliating) and massage in circular motions for 60 seconds. Then apply scrub to the chest and massage in that area too. It's important to not apply a lot of pressure when exfoliating the neck as the skin is very sensitive there and can get red easily. Rinse and apply moisturizer to give deliver hydration to the newly revealed cells," suggests celebrity esthetician Renee Rouleau.
Get a good night's sleep: Without proper sleep, not only will you feel tired, but you'll look it, too. "Try sleeping on two pillows to elevate your head. This also a beneficial strategy to help reduce morning under eye puffiness by draining fluids!" says Rouleau.
MORE: 3 Easy Meals That Make Your Skin Glow
Hydrate: As temperatures drop, hydration is key, as dry skin can ultimately enhance the visibility of fine lines and wrinkles. Swap out lighter moisturizers suitable for summer and fall, opting instead for slightly richer formulas that won't leave skin feeling greasy or weighed down. "Alternatively, give your regular moisturizer a boost by adding a dose of hyaluronic acid on top to draw moisture into skin," says Wohrle.
Eat from the rainbow: A variety of fruits and vegetables provide valuable nutrients and antioxidants that support healthy skin. "As you get older, your collagen breaks down, leading to wrinkles. Since your body requires vitamin C to synthesize collagen, you'll want to get optimal amounts of the vitamin from fruits and vegetables like broccoli and berries," says celebrity nutrition and fitness expert JJ Virgin, author of The Virgin Diet. You've probably heard about resveratrol in grapes, blueberries and yes, red wine. A study in the journal PLoS One found this anti-aging compound could prevent age-related skin disorders.
Image via Istock