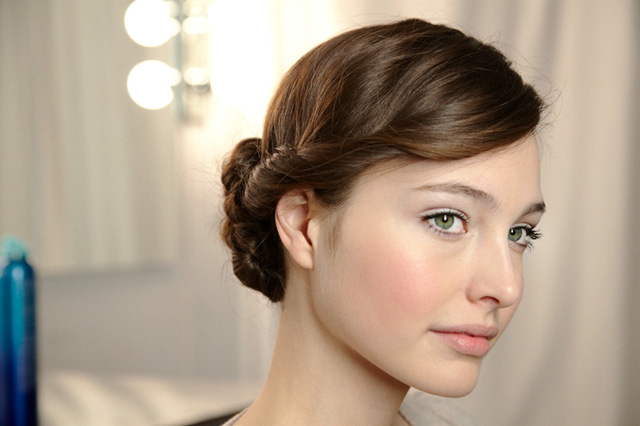 The spring 2011 season was filled with tousled locks and messy updos. But, converting those styles into an everyday look isn't the easiest thing – especially when it comes to something like a fancy chignon. Luckily I've watched many hairstylists work their magic and this style isn't as hard as you might imagine.
Allen Wood of Bumble and Bumble Salon shows us how to create a messy, yet romantic chignon that looks ever-so-complicated but is actually quite simple when broken down. Try it yourself for your next date night.
Step 1:
Start with towel dried hair and wet down with Bumble and Bumble Tonic Lotion to create an even, damp foundation. Add Bumble and Bumble Surf Spray throughout the hair evenly, from root to end. This will bring out waves, volume and texture.
Step 2:
Blow dry products in to activate and roughly hand dry. Lift and dry for volume so your hair is not flat to the head.
Step 3:
If you need it, grab large sections of hair with an iron and curl.
Step 4:
Break up the sections to make it look natural and undone with a hair dryer. Let the part break naturally and leave it messy. Updos aren't about being overdone anymore, they're about being easy and effortless.
Step 5:
Leave out the top section and loosely rake the rest of the hair into a side ponytail and secure with a hair tie.
Step 7:
Twist two small sections of hair away from each other, then wrap the two twists together.
Step 8:
Do this to three separate sections of the ponytail. (If you have thick hair, you may need more than three sections).
Step 9:
Coil the hair around the hair tie and secure – you can tuck in any loose ends to refine the chignon once in place.
Step 10:
Drop down and rake your fingers through the top section. Drape it across your forehead where you want it, or twist up around to the side.
Step 11:
Once you have it the way you like, secure with bobby pin and ease into a bun. Finish with Bumble and Bumble hairspray.
Photos courtesy of Joey D'Arco for Beauty High. Model: Katharina Rembi, Supreme