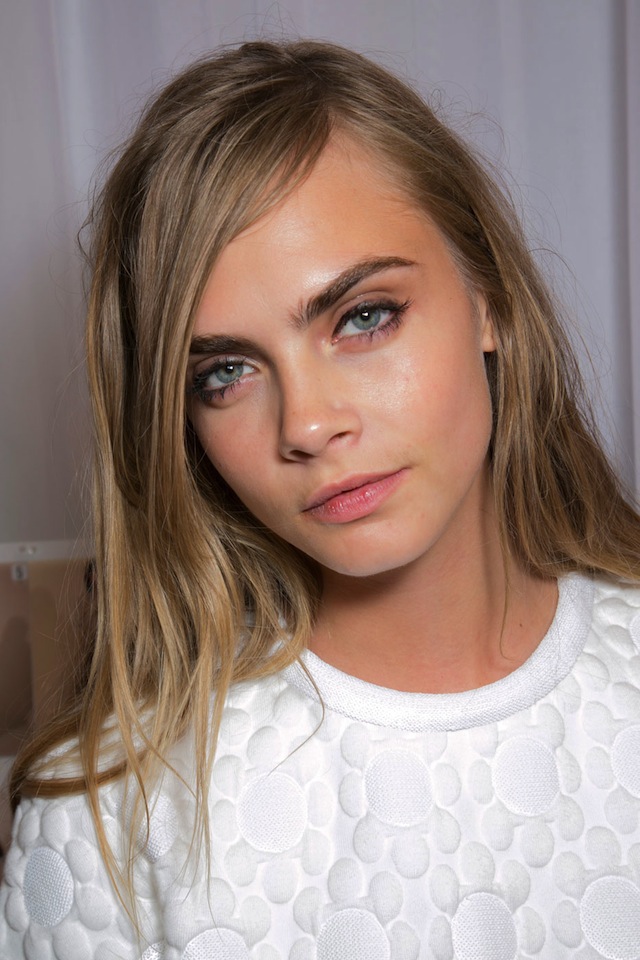 Through all of our handy beauty products, we enhance and improve upon our features that we were born with, and play up the ones that we wish had a bit more prominence. So that saying "fake it until you make it" can really ring true in the beauty world – if you want fuller lips, make them; bolder brows, create them; and a contoured jawline, contour it! In this column we'll teach you the tips and tricks to tweaking your features and "faking it" until you "make it." 
Bushy and large brows have been taking us by storm ever since "au naturel" became a thing. If we're going to tone down our makeup, we have to at least be able to play up our brows, right? And then, we were graced by the likes of Cara Delevingne, and over-plucked, over-tweezed brows became a thing of the past. But, if you're one of those girls who has naturally thin brows (or used to pluck yours into oblivion so much so that they absolutely will not grow back) we have some tips for you. Since the bold and beautiful trend certainly doesn't seem to be going anywhere anytime soon, it's time to fake it until you make it.
Choose Powder Over Pencil:
There are a ton of different brow products out there, but powders tend to be easier to maneuver – especially if this if your first time at the rodeo. Pencils lead to a heavy hand (you're drawing, right?) and powders allow you to "paint" with a lighter touch, and often let you brush away excess and then paint again if needed. Trust us, brow powders are your friend, whereas pencils will have you reaching for the makeup remover.
Focus Powder On the Out Portion of Brows:
But, once you have the powder, concentrate it on the outer portion of the brows. There is no use creating a unibrow for yourself instead of a balanced, full brow – so the best tip here is to work from the arch towards the end. Then, you can take your brow brush and spread the excess pigment toward the inner corner of the brow.
MORE: The Best Gels For Grooming Your Brows
Go In With a Light Hand:
There is nothing worse than having a "painted on" brow – and unfortunately we've probably all been there when trying to create that full look. So, go in with a light hand and brush the powder onto the brow hairs, not onto the skin. This way you can lightly layer on the powder and continue to add more until you get the desired look – instead of having to start over once you realize you've been a bit heavy handed.
Mix Your Shades:
You're probably not the exact shade of the powder brow kit that you purchased, so the best way to get the most natural result is to mix the light and the dark powders (as you're applying) to get the best look. Start with your darker shade along the center of your brows (in thin strokes along the center) and then blend out with a lighter shade from the arch to the ends to mix.
Obviously, Put Down the Tweezers:
And finally, if you're going to spend all of this time learning how to get that perfect, natural-looking brow, do not tweeze. Let them grow in naturally and have a professional "shape them" but make sure you let them know you love the bold and natural look.
MORE: The Secret to Perfect Eyebrows
Image via Imaxtree