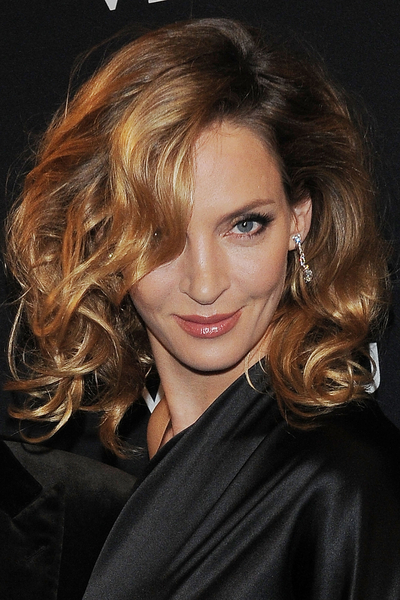 Stefania D'Alessandro/Getty Images
Actress Uma Thurman channeled old-school Hollywood glamour with voluminous curls at the Vertu Global launch of "Constellation" in Milan, Italy. Elsewhere, models at Chris Benz's Spring 2012 presentation resembled "trashed-out" versions of Elizabeth Taylor with their heightened hair. And "Someone Like You" singer Adele scored big at this year's MTV VMAs with her bold, retro hairstyle.
"The past two Fashion Week seasons saw many of the trends pulling from the late '60s and early '80s," Heath Grout, TIGI creative director, told Stylelist. "Both decades' hairstyles tended to be quite volume-based and reminiscent of what is often called 'Dynasty' hair. Trends tend to trickle from the runways and we mimic them on our own, in less exaggerated ways."
This tress trend is growing thanks to hot rollers becoming popular again. "At Chris Benz, we used hot rollers and/or curling tongs to create the looks," said Grout. "Product technology has obviously evolved, helping stylists achieve different textures and easier volume—there tends to be less alcohol and products that spray directly onto the hair, as to not weigh it down. We have also found new ways of combining products, such as mixing serums and volumizers, and different holds of hairspray have come into play."
Our friends at Stylelist scored Grout's instructions on how to recreate a modern version of this iconic hairstyle:
You will need hot rollers, tong, soft boar bristle brush, large round brush, dry shampoo and firm hold hairspray.
Prep the hair with a generous amount of TIGI Catwalk Session Series Transforming Dry Shampoo to achieve a "gummy and dirty feeling."
Separate the bottom and top layers, and then cornrow the lower half of the hair flat towards the nape. Secure braids to the head with bobby pins. This creates the illusion of shorter, yet fuller hair.
Set the top half with hot rollers to give hair direction. Remove the rollers and spray with TIGI Catwalk Session Series Work It Hairspray for hold, and tousle the hair, mussing up the curls.
Back-brush the hair to add volume. After you've reached desired height, pin the ends into a jaw-length bob around the head, covering up the cornrow section. Back-brush once more to create a "wiggy" effect.
Going out and pressed for time? Grout recommends using TIGI Catwalk Root Boost on dry hair at root area and re-stretch dry for maximum lift and hold. And reach for the curling tong instead of rollers. "Quick set with heat!"


Try on big and sexy hairstyles in the Makeover Studio!
More from Stylelist
How To Give Flat Hair Some Flair
Julianne Hough Cuts Loose With New Haircut
Transform Into Smurfette For Halloween