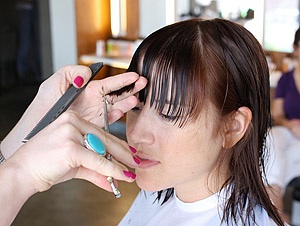 Watching the powers that be figure out how to clean up all the millions of gallons of oil from the Deepwater Horizon disaster in the Gulf Coast is overwhelming and heartbreaking–but there is something YOU can do to help. Get a haircut! Human hair is being collected to create oil absorbing mats or "booms" that surround and contain as well as soak up oil slicks.
One of NYC's top salons, SALON AKS (212.888.0707), is now collecting all of the chopped off hair that is usually swept into the trash and sending it to Matter of Trust, a nonprofit organization that is helping to mobilize hair donations from across the country. All hair lengths and textures are accepted, even color treated hair. The only requirement is that hair must be clean (which it is after a cut anyway).
If you don't live in NYC, ask your local salon if they are participating in a similar Gulf Coast relief effort or encourage them to sign up with Matters of Trust. Every little snip helps!