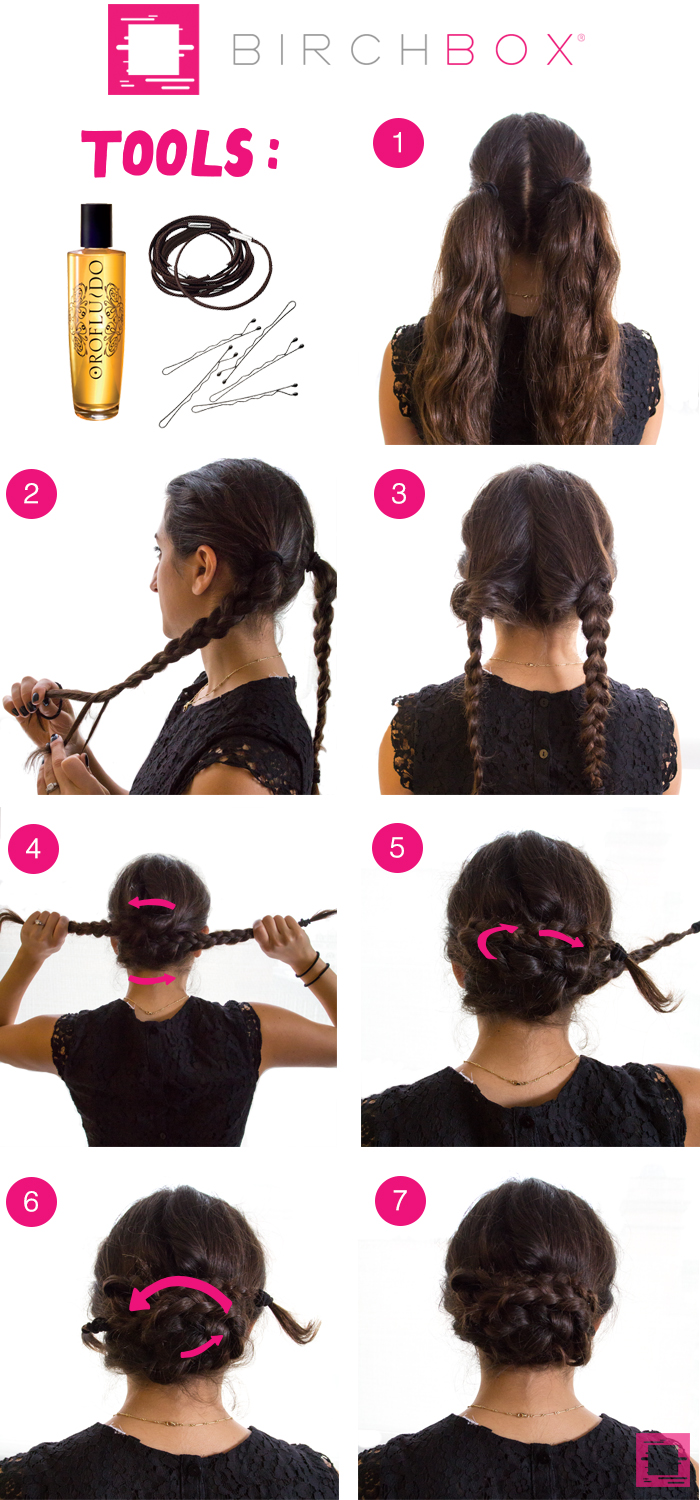 This holiday season, we're thrilled to present a special series with Birchbox (the beauty-obsessed company that offers its members a unique and personalized way to discover, sample, shop, and learn about the best beauty and lifestyle products!) to bring you a variety of holiday hair tutorials that will have you looking your best for the party-filled season. Here, they've supplied us with the tips and tricks for getting the look just right – and make sure to visit the Birchbox Blog for even more tutorials!

Holiday party season is officially here, which means lots of merriment. Unfortunately, it also means mucho stress, since all those festivities require hours of prep and primping. With so many celebrations going on, time-savers are key, which is why this folded pigtail braid style is so genius. It looks a lot more intricate and complicated than it actually is, so you'll get loads of compliments in exchange for little effort. And it's especially flattering with strapless and one-shoulder frocks—perfect party attire.
What you'll need:
• Hair oil (If your hair is frizzy, thick, or curly, we recommend using a concentrated oil like Orofluido's Elixir.)
• Bobby pins
• Four hair elastics that match your hair color
Steps:
1. Start by dividing your hair into two pigtails, and secure with hair elastics at the middle of the back of your head.
2. Braid both pigtails and secure with elastics.
3. Remove the elastics at the top of your braids.
4. Take your braids and pull each of them in the opposite direction from where they started. One will end up on top and one below.
5. Grab the top braid and bend it in half. It should be folding over itself, with the end of the braid now back on the same side that it started from. Secure to the back of your head with bobby pins.
6. Pull the bottom braid over the folded top braid, toward the side it originally started from. Secure in place with bobby pins.
7. Hide the elastics at the ends of the braids by tucking them into the woven updo. Secure with
pins.
Want more quick and easy hairstyle ideas? Check out these stories on Birchbox.com:
Upside-Down French Braid Tutorial
Sock Bun Hair Tutorial in 5 Crazy Easy Steps
Half-Crown Braid Video Tutorial (featuring our co-founder, Katia!)