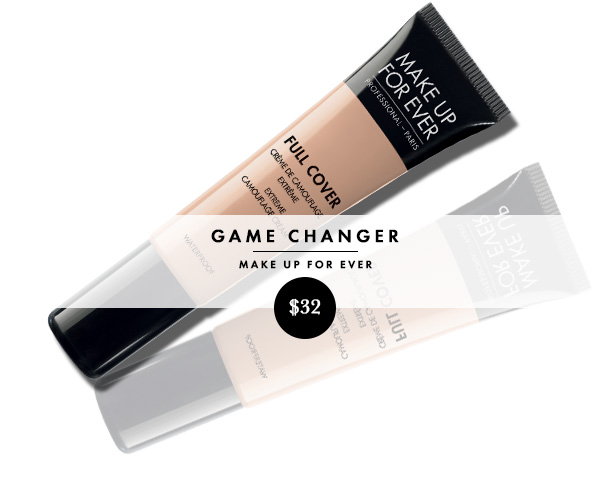 As a beauty editor, it's part of my job to test out the latest and greatest in makeup every single day—which means that my standards for product excellence are incredibly high, and I don't praise anything that I don't truly love. So when I say that Make Up For Ever Full Cover Concealer ($32) is the greatest concealer ever made and the single product I could not live without, you know that means it is truly phenomenal.
This concealer is, hands down, the product that people most often thank me for telling them to buy. It is peerless in its excellence. It is supreme. It is life-changing. If you think that all concealers are basically the same, you have not yet tried this one. How do I love it? Let me count the ways.
1. It offers amazing coverage.
The name does not lie: this is DEFINITELY full coverage concealer. The tiniest amount makes short work of even the most life-ruining cystic zit and hides the darkest of dark circles (which I most definitely have). No other product even comes close to offering that kind of coverage, and I know, because I've tried them all. Nothing else is in MUFE's league.
2. It's natural-looking.
And yet for all of its intense coverage, it never looks cakey or fake; this concealer blends into skin like a literal dream. And unlike many other full coverage concealers, this bad boy actually sets instead of remaining emollient all day (and smudging off).
3. It actually matches your skin.
And I do mean EVERYONE'S skin: Full Cover comes in 12 shades, including very deep and very fair (with a variety of undertones!), so you're sure to find a color that matches your complexion perfectly.
4. It's versatile.
Does it cover standard blemishes? Yes. How about those hardcore hormonal zits? Yes again. Red patches? Freckles? Under-eye circles? Bruises? Tattoos? Yes, yes, YES, yes and yes. It's even good over dry patches, settling far less into flaky skin than other concealers. You can use it for literally any of your camouflaging needs; this one tube has replaced three other concealers in my makeup routine.
And my secret use? It makes an amazing lightweight, long-lasting foundation. Just mix a small blob of concealer into a larger blob of primer (I use and love Eve Lom Flawless Primer SPF 30, $55) and apply it all over your face with your fingers.
5. It's waterproof.
Whether you're sweating, crying, getting caught in the rain or working out, this concealer will stay put. I've worn it to swim in the ocean, and I came out looking just as perfect as I went in. If it stands up that well to salt, sand and sun, you know it'll last through your workday.
6. It's easy to use.
Unlike some concealers that require three separate brushes and a Master's degree in engineering to apply correctly, MUFE's Full Cover is insanely easy to use. Just squeeze a small amount onto your (clean) finger, then tap onto your skin. Fingers work better than brushes or sponges with this product; and tapping, rather than rubbing, to blend gives the best finish.
But one warning: because it sets quickly, you do need to move fast with your blending—otherwise you'll be left with smudge-proof blotches all over your face, which is NOT the look.
7. It lasts FOREVER.
Because a little bit of this goes such a long way, a single tube of this concealer will last an incredibly long time. My tube is still a quarter full, and I've been using it every day for over a year. Well worth the $32; try it, and I guarantee you'll agree with me.
More from Daily Makeover: The Drugstore Lip Color That Will Blow Your Mind.