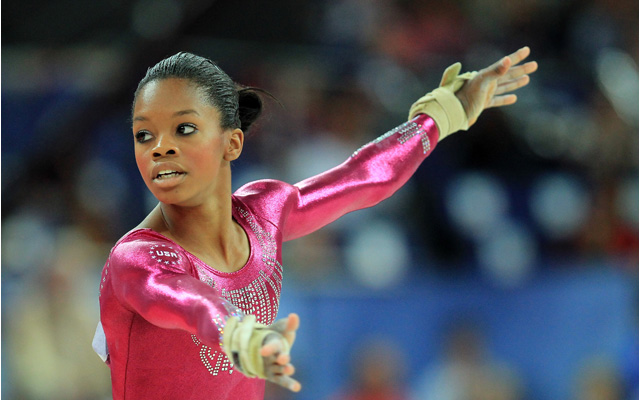 Olympic gold medalist Gabby Douglas has wowed us all these last couple of days, and is showing no signs of stopping. The 16-year-old not only sky-rocketed into the limelight by first helping her team to win their gold medals (and let's not forget by placing first and assisting in teammate Jordyn Weiber's inability to compete in the all-around), but she also became the first African American gymnast to win the all-around competition. She broke other records too (such as the first American to win both all-around gold and team gold) but when Douglas "Googled" herself after she won, she found that half of what was written about her was her hair.
We had of course been following the story, hoping it would fall by the wayside, because let's be real guys — this girl deserves her moment, and many more to come. If you don't know her story, it's one of the most touching of the Olympic athletes. In order to get the training she knew she needed, she moved away from her family in Virginia Beach, and in with a host family in Iowa. She clearly flourished under the new coach, but didn't really take off until just before the Olympic trials. And then, the rest is well, history.
But, while she was making that history, people took to social media outlets to comment on Douglas' hair (pulled back into a simple bun like many of her teammates) complaining that she needed to fix it and get the gel residue out of it. Tina Opie, an assistant professor of management at Babson College in Wellesley, Mass. told The Washington Post that "hair is identity." She said, that for black women who "see hair as a signifier of identity — of class, ethnicity of gender– it matters. So when these black women see Gabby Douglas wearing her hair in a way they see as sub-par, they view it as a threat, something that will negatively impact how others view them as well." But, Opie also added that "for the discussion to be about her hair as opposed to the great honor she's bestowing on African Americans and the United States, I think we really have to ask ourselves: Why?"
After learning of the controversy, Douglas spoke to the Associated Press and was asking herself the exact same thing: "I just made history and people are focused on my hair? It can be bald or short it doesn't matter about (my) hair."
She noted that she's worn the style for years, to hold her hair in place when she competes — and clearly that's what she's concerned about, just keeping those strands in place. "Nothing is going to change. I'm going to wear my hair like this during beam and bar finals. You might as well just stop talking about it. I don't think people should be worried about that."
And we have to say, we completely agree, and it's refreshing to see someone so young with such a good head on her shoulders. We support your "hair decisions" Gabby, we're simply impressed by what you can do on the bars, beam, vault and floor!
Image via Getty Images/Ronald Martinez