A couple of weekends ago I was home visiting my family and decided to get an early start on my Christmas shopping. (Need to take advantage of the lower sales tax in Massachusetts and all.)
First stop? Yankee Candle.You can never go wrong with purchasing a few Christmas Cookie scented candles as gifts.
As the sales woman scanned in my purchases (I swear I'm the only human who can drop $250 on candles…shameful) I scoped out the check out counter. So many products to grab my attention! Car Jars! Candle toppers! Anti-bacterial hand lotion…? Lip Balm?!
I picked up one of the lip balms. The packaging looked like the iconic Yankee Candle glass jars.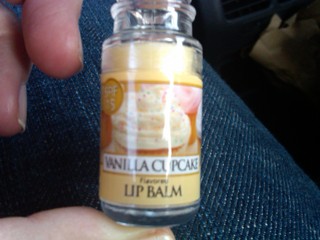 "You guys do lip balm now?!"
"Yes!" She replied.
I stared at it. Vanilla Cupcake. Who doesn't love a vanilla cupcake? But…lip balm? From a candle company?
"How much is this?"
"They retail at $3.99."
SOLD.
It's a pretty nice lip balm. It doesn't dry out my lips and it does smell lovely. I can't say I'll be a loyal user of the Yankee Candle Lip Balm but for now it will do the trick until something else new and shiny catches my eye.