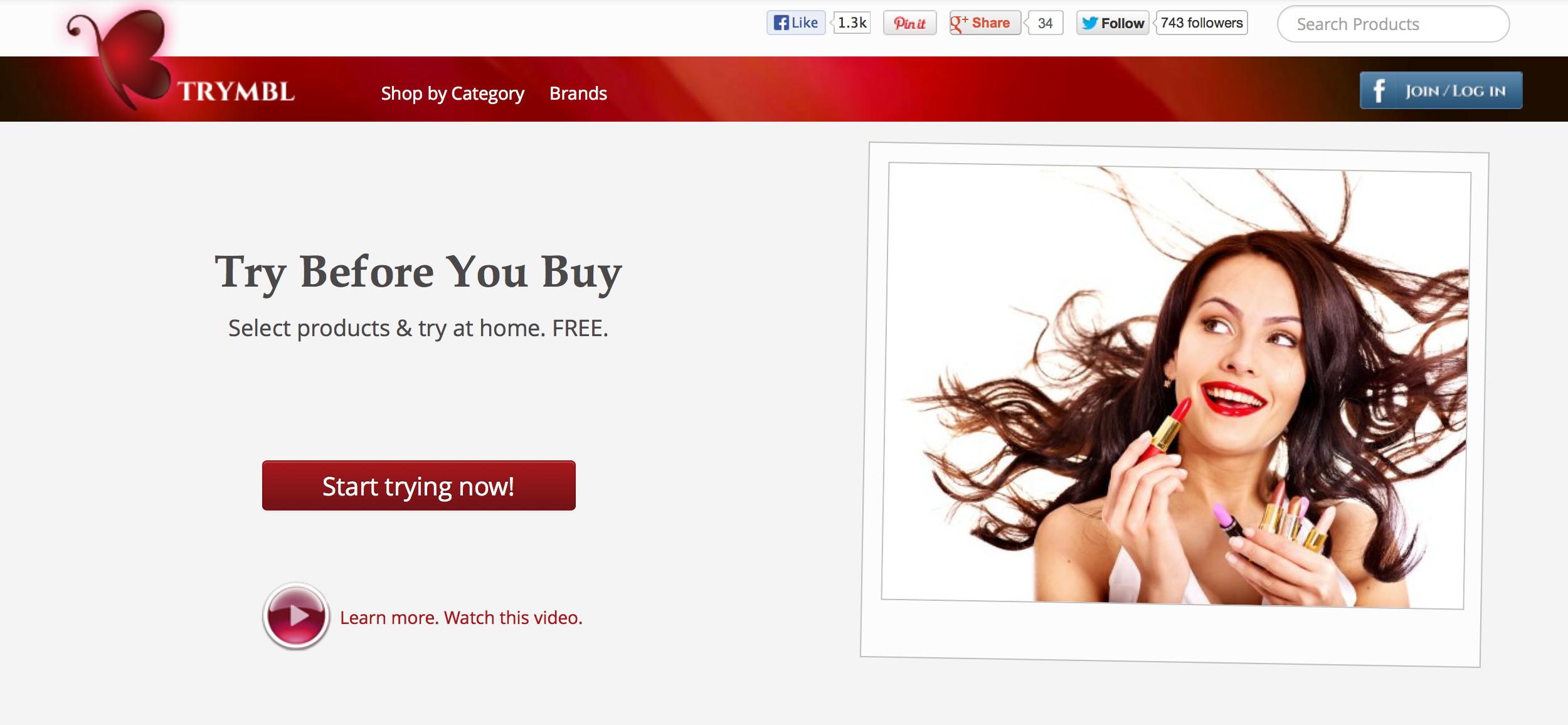 It's the "try before you buy" dream—a service sends you customized samples large enough to get a feel for the product, at the same cost it would take you to walk to Sephora, nothing at all. And it's better, because you don't have to leave the house, which is always better.
Companies like Birchbox, Glossybox, Beauty Box 5 and more have caught on, but the dream's not quite a reality yet, with omnipresent subscription fees and hit-or-miss samples. Thus new startup Trymbl, launching in August,  is aiming to fill the gap, offering three free, returnable and usually full-size products per month to a closely limited (and questionably chosen) clientele.
In theory, it should work: in order to avoid the "freeloaders" that are said to plague other sample giveaways, or those that order tons of samples without ever buying a full-size product, Trymbl's created a computer filtering system to invite only those they select as "high-end users" to participate. Anyone can buy from the site, but through questions on what types of products and ingredients users prefer (organic, toxin-free, oil-free, paraben-free, etc), the system chooses some for lifetime membership. So while you may pay a monthly subscription fee for a set number of large samples from other delivery services, with Trymbl, that comes free—provided they think you'll follow through.
Yet we're still shaky on the system, which they call "Fanery." By having users answer the questions above and tracking which items they purchase and put on their wish list, Fanery will "classify them as a mass shopper, premium shopper, or luxury shopper." With this system, the company says they'll be able to avoid inviting those just looking for free products, keeping themselves and their brand partners from wasting money.
It's an unusual idea, that's for sure. And it sounds like Trymbl's going for essentially the Whole Foods market with "high end, organic products" in categories like "makeup, personal care, maternity, and baby," who no doubt all have the moral standards to uphold their trust and actually purchase a few products, unlike those of us who have yet to cut out parabens.
But if you couldn't tell, we're not entirely convinced on the idea. While it does sound great in theory, we're all about the high-low mix, and it seems as if Trymbl is trying to limit themselves to an audience with pricey preferences, to be sure they have the funds to back it up. It's understandable, but not likeable. What do you think? We can't blame them for attempting to limit their losses, but at the same time, the Internet's all about inclusivity, and even formerly invite-only Moda Operandi eventually opened up. Do you think Trymbl will last? Or, more likely, will not having the word "box" in its name be the thing to do it in?