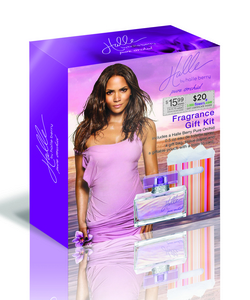 Mothers are notoriously difficult to shop for, or at least mine is. Come Mother's Day, she always says "oh honey I don't expect anything from you, just your love is enough for me" which is code for "You better get me something shiny, I did give birth to you after all." I spend weeks agonizing over what to get my mom and usually end up breaking the bank trying to impress her with something designer or some expensive trinket, only to have her go gaga over one of my latest perfume acquisitions, which I usually end up giving her as well.
Because of this, I've put the kabash on the out of control presents, instead opting to get her beauty gifts I know she'll adore. If you're mom is also difficult to please, consider surprising her with one of these genius fragrance gift kits. Created by Coty, the brand behind pretty much all of your favorite celeb and designer fragrances (hello Marc Jacobs, Vera Wang and SJP), each kit features a full-size fragrance, $20 savings pass to 1-800-Flowers, gift bag and giftable pouch–it's like a DIY Mother's Day kit. Available in six different fragrances–Pure Orchid by Halle Berry, Halle by Halle Berry, Faith by Faith Hill, Celine Dion Sensational, Vanilla Fields, Jovan Musk for Women and Jovan Satisfaction for Women–there's literally a scent to suit every mom. Best of all they're just $15.99 apiece, so you don't have to go bankrupt trying to impress her.
But why let mom have all the fun? We've partnered up with Coty to offer four lucky readers their very own Halle Berry Pure Orchid Gift Set. With notes of papaya nectar fizz, jungle cactus flower, exotic Masdevallia orchid, blackberry creme and star anise, it's a decadent, slightly sweet, very sexy scent you'll want to wear everywhere. Just tell us in the comments section below what you love most about your mother and you'll be automatically entered to win.
Contest ends Friday, May 07 at 5 P.M. EST. Be sure to read the full rules and regulations.
Congrats to our winners Carolyn, Debbie, Lindsay and Shannon. Thanks to everyone who entered and shared their reasons why their Mom rocks!
As one the web's largest beauty sites, DailyMakeover.com constantly receives products from beauty companies for editorial review. Please read our Editorial Ethics Pledge if you'd like to know how we select products to feature.