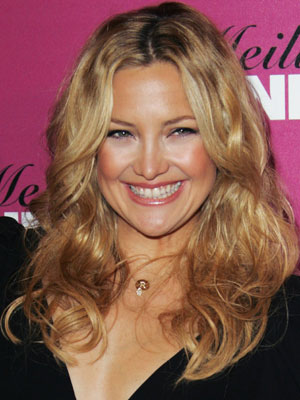 Kate Hudson gets her glow in during the winter
Credit: Tony Barson / WireImage.com
I'm not a fan of the savage tan, but even I looked into the mirror this morning and thought Casper the ghost was staring back at me! Winter is peaking and we are at our palest. Sometimes we need a little extra color to perk us up and lift our spirits. Makeup can give you a healthy dose of radiance, so here are a few little tricks to wake up your skin.
1. Lay off the summer bronzer. First off, don't pull out your summer bronzer. This will look too harsh against your pale winter complexion. One fast tip is to mix a drop of a tinted moisturizer, like Lorac Protectint in Beach Bronze, that is darker than your skin with your regular foundation to give you a light pick-me-up. Because it is a moisturizer that is being blending into makeup, it will look like a hint of healthy color.
2. Use a shimmer-free bronzer. Another way to go is to apply Sally Hansen Natural Beauty inspired by Carmindy Sheerest Cream Bronzer. This light shimmer-free bronzer melts into your skin creating a soft radiant glow. Sweep it along the temples and under the cheekbones for a sun winked look.
3. Blush a must. Try an extra swirl of blush when you are in a hurry to give a little sunny help. Choose a shade in golden pink, warm rose or terracotta and sweep it on the apples with a little dab on the temples, forehead and chin. If you apply too much use a clean sponge to tone it down.
4. Lighten up! Avoid dark shades of lipsticks and eye shadows. The contrast against pale skin will make your complexion look even lighter. Instead, play with warm neutrals and a little shimmer to keep skin alive.
As an established makeup artist, many beauty brands send me samples of their latest products for consideration. I only write about the items that I truly love and I always abide by Daily Makeover's Editorial Ethics Pledge in each of my Positively Beautiful posts.