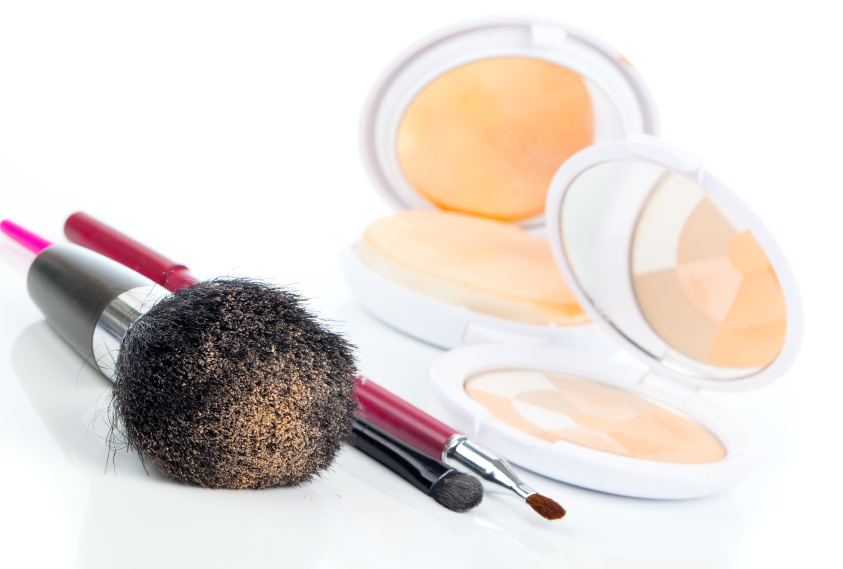 With all of the beauty trends, tricks and techniques out there, everyone's explaining beauty products up, down and sideways. However, because we've got the insider knowledge on the industry, we're sharing with you "10 Things No One Ever Tells You" as your complete cheat sheet for all things beauty. 
For most of us, our daily makeup routine begins with the application of foundation. Once you've cleansed, moisturized and primed, on goes the foundation, whether it be powder or liquid, which is followed by eyeliner, mascara, blush and lipstick, in whichever order you've become accustomed to. While you may have taken months upon years to find your perfect shade, formula and brand of foundation, your makeup staple could still be hiding a few things from you. Here, we explain 10 things no one ever tells you about foundation, so you can make the best choice possible for your skin.
MORE: 10 Mistakes You've Been Making With Your Eye Makeup
1. You could be allergic: Whether you find yourself with puffy eyes or a skin rash, you may be allergic to some ingredients in your foundation. You may not be allergic to a product the first time you use it, but your skin can build up an allergy to it over time. The best way to test is by trial and error with other products, but if you notice something happening on your skin that shouldn't be happening, stop using the product immediately.
2. Using your finger is better than using a brush: It's better than using a sponge, too. If you don't clean your makeup brushes and sponges regularly (at least once a week), the bacteria that can accumulate is being put on your skin, which can lead to acne, skin irritations and more. Be sure to blend well with your fingers, but they're actually much more sanitary than your tools.
3. For contouring, you should be using three main colors: If you want a contoured look a la Kim Kardashian, go with three colors: Your natural foundation color, two tones darker than your natural foundation, and two shades lighter. You can use bronzer and highlighter for contouring as well, but using foundations will give your skin a more natural finish than the shimmer in highlighters and bronzers.
MORE: 10 Beauty Products You Haven't Been Using Properly
4. Powder vs. Liquid: Depending on the type of finish you want, choosing a foundation formula is crucial. Ladies with oily skin, you're better off going with powder, and those of you with dry skin should go with liquid. Simply put, opposites attract.
5. The SPF in there isn't enough: We're huge believers in using beauty products with SPF in the formula, but the sunscreen factor in your foundation doesn't mean you can stop there. Before your foundation, apply a separate SPF lotion to your face and neck to achieve optimal coverage.
6. What "oil-free" really means: We hate to say it, but oil-free does not always mean there are no oils in the foundation. Check the ingredient label; some companies use a man-made oil instead of a natural oil to meet the regulation standards to be able to write oil-free on the label.
7. What "natural" and "organic" really mean: Similarly to the oil-free guise, ingredients are only required to be 20 percent natural or organic for the label to claim that. If you really want completely organic products, look for "USDA-Certified Organic" on the label.
MORE: 10 Beauty Myths We All Fall For
8. The fragrance is doing more harm than good: Regardless of why the fragrance is in there, it could be what's causing your skin to react badly to a foundation. Look for fragrance-free products, especially if you've got sensitive skin.
9. "Dermatologist tested" is misleading: Another term, another misleading label. Just because dermatologists have tested a product does not mean they've approved or endorsed the product. Don't be fooled by the packaging.
10. Why it matters on an interview: While you shouldn't be wearing so much makeup that it's distracting on an interview, it's important to make your skin look the best it possibly can. Your interviewer may not notice if your skin is glowing, but they will notice if it looks like you don't take care of your skin. By wearing the right foundation in front of a prospective employer, the emphasis will be on how well you interview, not how poor your skin looks.
Image via Istock