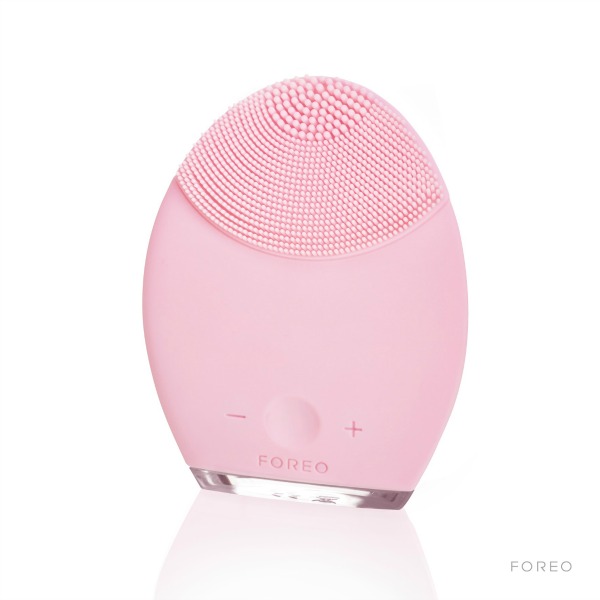 You know how you see the "bestsellers" and "most popular" products in beauty stores, so you of course scoop them up, but then you realize you have no idea how to work them? In "How It Works," we're going to explain to you exactly how to get the best use out of your products, whether they are cult classics or hot off the conveyer belt must-haves. We'll teach you the basics, as well as a few industry expert tips to make sure you're getting the most out of everything you buy.
The silky smooth feeling of your skin after using a facial cleansing tool can't be beat. Working to remove dirt clogged in your pores and all that excess makeup residue, they are generally made with synthetic fiber bristles similar to that of a toothbrush or makeup brush. But who says a facial cleansing tool has to be brush-like at all? One company recently shook things up with a gadget that is flat, made out of silicone, and doubles as an anti-aging product—yep, you read that right. Meet the Foreo LUNA, a new product that uses tapping pulsations to cleanse your skin. Interested? Keep reading to learn about how it works.
MORE: 10 Things to Know About Washing Your Face
 Product Perks
Transmitting pulsations through its soft silicone bristles, this product works to cleanse skin and remove dirt and makeup from your pores with a tapping motion, as opposed to a circular motion that could irritate certain sensitive skin types.
You don't have to charge it often! It yields a whopping 450 uses before it needs a battery charge and is waterproof.
Because it's made out of medical grade silicone, it's easy to clean and said to be more hygienic than a bristle.
On its flip side, the LUNA features an anti-aging, massaging facial treatment that transmits pulsations that work to relax the muscles in your face.
How It Works:
Start by taking off your makeup and lightly dampening your face with water. Apply your favorite cleanser on your face and then wet the LUNA. Place the tool on one side of your face at your chin and move it up to your ears in gentle strokes for about 15 seconds. Do the same thing for the other side of your face. Move on to cleansing your forehead and then on either side of your nose. Each section of your face should be cleansed in 15-second intervals. Flip the product over to test out the pulsating anti-aging treatment. Place the flat side on one of your wrinkle-prone areas (like between the eyebrows or your temples) and stroke the specific section for 12 seconds.