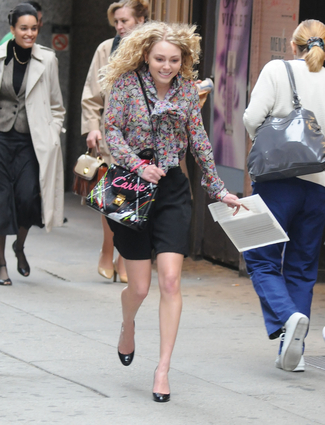 Photo: Getty Images
Just this past weekend I had the typical girl talk with my friends about which Sex and the City characters we'd be. Although the four of us bickered over who would be Charlotte (definitely would be me, by the way), I surrendered and said I'd take Carrie. After seeing the recent snapshots of a stunning AnnaSophia Robb on the streets of New York as a young Carrie, I'm okay with my second choice.
The 18-year-old actress, best known for her part in Bridge to Terabithia, is playing a teenage Carrie Bradshaw in the new series, The Carrie Diaries. When I first reported the news, I couldn't see the resemblance between the young actress and the infamous Sarah Jessica Parker. But after seeing those voluminous curls and bright print top, I see some potential. And did anyone else notice her purse says Carrie on it? So cute.
My only fear is that they will mimic those 80s flashbacks from the original series. Seeing as Gossip Girl's costume designer Eric Daman is heading Carrie's wardrobe for the show, I don't think I have to worry.
What do you think of the producers' choice after seeing Robb's complete transformation?