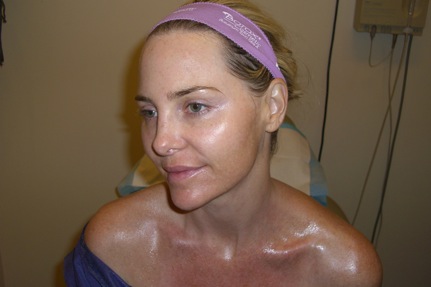 Me before my treatment.
I grew up in sunny southern California where there was a surf team in high school, weekend beach parties at the Huntington Beach Pier and lots and lots of suntan oil. Being tan was a way of life and the only ads my mother had seen for sun care were the ones with the Coppertone baby and the puppy pulling down her swimsuit to reveal a bad burn. Ouch!
If I only knew then what I know now there would have been a lot more umbrellas, hats and zinc oxide in my life. Over the years all that time spent in the sun seemed to creep up on me in the form of brown sunspots and melasma on the sides of my face and my chest.
I stopped tanning about 13 years ago and became a sunscreen fanatic, but the damage was already done and there are definitely days when I wish I could erase the history of those sunscreen-free days. After a skin cancer scare on my chest this year that turned out to be just a result of old sun damage, I decided to do something about it. I talked in length with my dermatologist, the amazing Dr. Rosemarie Ingleton in New York, on the treatments that were available to combat my existing sun damage before it became worse. She told me all about the C02 Laser Peel and the amazing way it cleared up the damaged skin and rejuvenated the surrounding tissue, allowing for a healthy clear complexion. I had read a bit about it in magazines and was interested in how it really worked and it's quite fascinating. Crazy cool modern technology!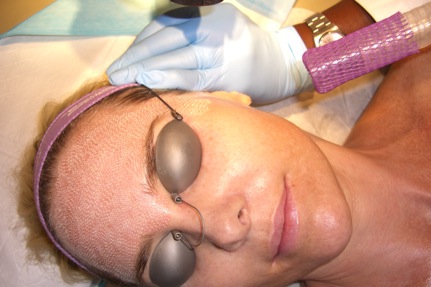 Getting the laser applied to my skin. Aren't my goggles hot?
She explained to me that instead of one solid heavy-duty laser that zaps all the skin at once, the CO2 is done in a fractional grid of tiny pinpoint light beams that penetrate the skin in a pattern. It produces thousands of columns called microthermal treatment zones. This method protects the skin from enduring too much damage all at once because you have a large reservoir of healthy normal skin surrounding these zones, allowing you to heal very fast and have minimal side effects. The result is bye bye brown spots and hello pink baby skin. That said, the downtime is about 5 days and you must really be religious about sun protection going forward so the damage does not return.
I decided to go for it and wanted to share with you my C02 experience. When I arrived at her office on the day of the procedure, I was given a cocktail of Valium and painkillers and my face and chest were coated with numbing cream. Once that had set in and I was feeling mighty fine, I laid on a table and was given some not-so-chic eye protection. When the laser began I felt a hot sensation and actually smelled a little smoke, which was really freaky (I think that's why they gave me the Valium)!</p?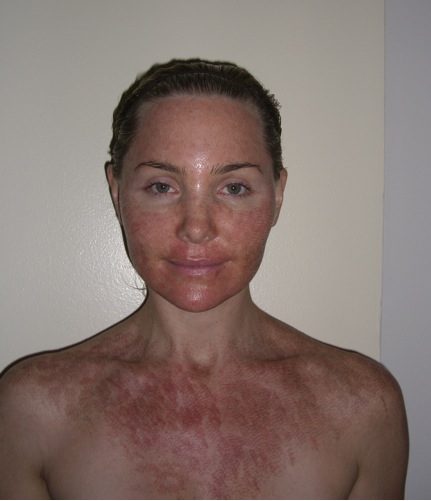 My skin the day after treatment. Ouch!
After the laser was completed, my face and chest were wrapped in wet gauze and I felt like a mummy. My skin was very hot like I had a really bad sunburn (ironic I know) and I became a bit woozy so they aimed a fan at my face and spritzed me with water to cool me off. After about 20 minutes the hot sensation subsided so she coated me with Eucerin Aquaphor Healing Ointment and sent me home with care instructions.
The next morning I woke up feeling and looking like beef carpaccio with a flaky crust. An appetizing image I know, but that is exactly what it's like and it does feel a little claustrophobic. It's like a tight concrete mask was poured on your face overnight. I craved cold foods like mint chocolate chip ice cream and I washed a few times a day with gentle cleanser and sometimes mixed in a little vinegar to help cut through the thick Aquaphor ointment. After you pat your skin dry you have to slather the greasy Aquaphor back on, which feels heavy but is soothing and eliminates the tight feeling.
As the days went by, flakes of brown dead skin came off little by little revealing perfect, pink, baby skin underneath. It does get a bit itchy, which is a good sign that you are healing but make sure you do not scratch or pick. I took Benadryl, which eased the itch and also helped me sleep.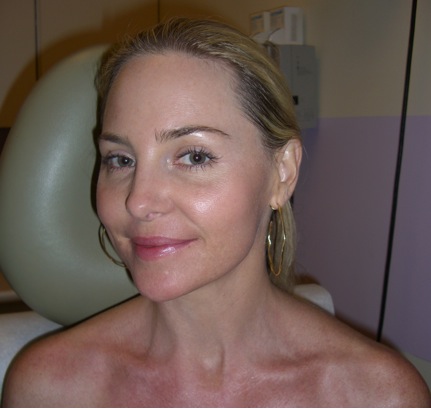 My pretty in pink new skin!
After about 6 days I went back in to see Dr. Ingleton and took a photo of the new me. The results were fantastic! The dark brown areas are gone and my skin looks radiant. I was still a bit pink in the chest at the time the photo was taken but that has since faded and my skin looks amazing — It was totally worth the week of being uncomfortable. I've been crazy about wearing hats and coat myself in SPF 45 sunscreen daily. I think that's a small price to pay for the great results I got.
So what do you think, would you do the CO2 laser to get rid of sun damage?
As an established makeup artist, many beauty brands send me samples of their latest products for consideration. I only write about the items that I truly love and I always abide by Daily Makeover's Editorial Ethics Pledge in each of my Positively Beautiful posts.