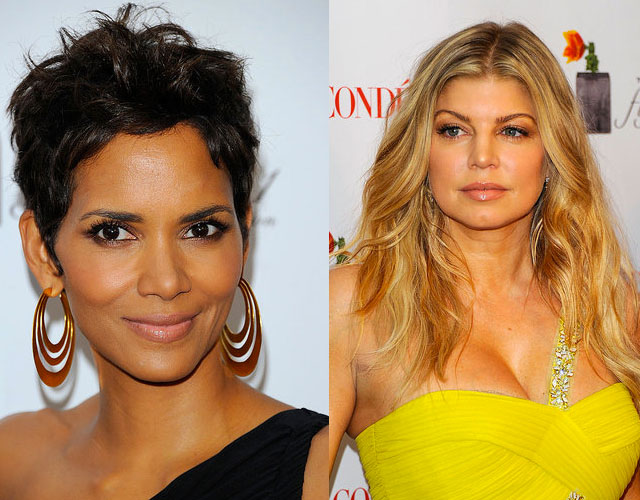 For those that don't know, and weren't following Beauty High on Twitter last night, The FiFi's are the Oscars of the beauty business. Held last night at Lincoln Center in N.Y.C., they certainly lived up to their reputation. The star-studded event saw everyone from Fergie to Halle Berry who were both there to accept awards, as well as presenters such as Padma Lakshmi, Paz de la Huerta and Kelly Killorean Bensimon.
We were also pleasantly surprised by the sight of Josh Duhamel, who was flown in to surprise his wife Fergie Ferg and award her with her FiFi. Duhamel told her she was the "Froth to his cappucino" and we all gagged a little, and gushed. There were many other highs and lows for the show (as any award show goes) as we started off in the dark when a fuse was blown, but hysterical Kate Walsh made the best of it, stating that "she was far too foxy to be up there in the dark." Paz de la Huerta then made a bit of a mess of her time on stage, seemingly having hit the champagne a little too hard before presenting.
But that just made the ceremony all the more entertaining as we watched Mary J. Blige, Halle Berry and Fergie accept their awards. There was also a heartwarming tribute for Elizabeth Taylor as the Fragrance Celebrity of the year award was renamed in her honor and she was inducted into the FiFi Hall of Fame.
Read on for the rest of the winners below and let us know if you agree with which scents were chosen, and scroll through the slideshow above for a glimpse and what some of the celebs wore!
Bath & Body Line of the Year
Balenciaga Black & White Collection (Coty Prestige)
Clean Bath & Body Line by Clean
Coco Mademoiselle Bath Essentials by Chanel WON
Peace Love & Juicy Couture (Elizabeth Arden)
Pretty & Pure Pink by Victorias Secret
Interior Scent Collection of the Year
Annick Goutal Noel Collection Candles & Home Spray (Beaut Prestige International)
Anthropologie/Le Labo Candle Collection (Inter Parfums USA)
Crabtree & Evelyn Iris by Crabtree & Evelyn
Jonathan Adler Happy Chic (The Maesa Group for Jonathan Adler) – WON
Ulta Home Fragrance Collection by Nest Fragrances
Best Packaging of the Year Womens Luxe
(Because of a tie, there are six finalists)
Acqua di Gioia by Giorgio Armani
Gucci Guilty (P&G Prestige) WON
Lady Million by Paco Rabanne (Puig USA)
Love & Tears, Surrender by Kilian
pureDKNY by Donna Karan Fragrances
Voyage dHerms (Beaut Prestige International)
Best Packaging of the Year Mens Luxe
Bleu de Chanel by Chanel
John Varvatos 10th Anniversary Limited Edition (Elizabeth Arden)
Marc Jacobs Bang (Coty Prestige) WON
The Big Pony Collection: 1, 2, 3 & 4 by Ralph Lauren Fragrances
Voyage dHerms (Beaut Prestige International)

Best Packaging of the Year Womens Broad Appeal
(Because of a tie, there are six finalists)
Avril Lavigne Forbidden Rose (P&G Prestige)
Bombshell by Victorias Secret WON
Eva by Eva Longoria (Falic Fashion Group)
Halle by Halle Berry Pure Orchid (Coty)
Mariah Careys Lollipop Bling Fragrance Collection (Elizabeth Arden)
Outspoken by Fergie (Avon Products)
Best Packaging of the Year Mens Broad Appeal
Banana Republic/Republic of Men Essence Eau de Toilette (Inter Parfums USA)
Gap Core Eau de Toilette (Inter Parfums USA)
Herv Lger Homme (Avon Products) WON
McGraw Silver (Coty)
Samba Sun Man (The Perfumers Workshop International)
Best Media Campaign of the Year Womens
(Because of a tie, there are six finalists)
Acqua di Gioia by Giorgio Armani
Beyonc Heat (Coty)
Boyfriend (Boyfriend LLC )
Gucci Guilty (P&G Prestige) WON
My Life by Mary J Blige (Carols Daughter)
pureDKNY by Donna Karan Cosmetics
Best Media Campaign of the Year Mens
Bleu de Chanel by Chanel WON
Dolce & Gabbana Light Blue Pour Homme (P&G Prestige)
Marc Jacobs Bang (Coty Prestige)
The Big Pony Collection: 1, 2, 3 & 4 by Ralph Lauren Fragrances
Voyage dHerms (Beaut Prestige International)
Perfume Extraordinaire
Beaut Prestige International
Drom Fragrances International
Givaudan – WON
International Flavors & Fragrances
Takasago
Fragrance of the Year Specialty Brand Mens
Banana Republic/Republic of Men Essence Eau de Toilette (Inter Parfums USA) WON
Bath & Body Works Signature Collection for Men Ocean by Bath & Body Works
Bath & Body Works Signature Collection for Men Twilight Woods by Bath & Body Works
Gap Core Eau de Toilette (Inter Parfums USA)

Fragrance of the Year Specialty Brand Womens
(Because of a tie, there are six finalists)
Anthropologie By the Creators of Le Labo Eau de Parfum Collection (Inter Parfums USA)
Anthropologie Happ & Stahns Perfumers, 1842 Rosa Alba Eau de Parfum (Inter Parfums USA)
Bath & Body Works Signature Collection Dark Kiss by Bath & Body Works
Bombshell by Victorias Secret WON
Brooks Brothers Madison Eau de Parfum (Inter Parfums USA)
Iris by Crabtree & Evelyn

Fragrance of the Year Broad Appeal Mens
Antonio Banderas the Secret (Puig USA)
Herv Lger Homme (Avon Products)WON
McGraw Silver (Coty)
Samba Sun Man (The Perfumers Workshop International)

Fragrance of the Year Broad Appeal Womens
Eva by Eva Longoria (Falic Fashion Group)
Flirt! Rock-n-Rebel (BeautyBank)
Halle by Halle Berry Pure Orchid (Coty) – WON
S by Shakira (Puig USA)
Samba Sun Woman (The Perfumers Workshop International)
New Fragrance Celebrity of the Year
Fergie WON

Elizabeth Taylor Fragrance Celebrity of the Year
Halle Berry WON
Fragrance of the Year Direct to Consumer
Boyfriend (Boyfriend LLC)
My Life by Mary J Blige (Carols Daughter) WON
Outspoken by Fergie (Avon Products)
So Elixir (Yves Rocher North America)
Fragrance of the Year Specialty Luxe Mens
Bond No.9 Cooper Square by Bond No.9 New York
One Million by Paco Rabanne (Puig USA)
Prada Infusion de Vetiver (Puig USA)
Tom Ford Azure Lime by Tom Ford BeautyWON
Victorinox Snowpower (Victorinox By Swiss Army)
Fragrance of the Year Specialty Luxe Womens
(Because of a tie, there are six finalists)
Balenciaga Paris (Coty Prestige) WON
Belle dOpium by Yves Saint Laurent
Jadore Lor (Parfums Christian Dior)
Lady Million by Paco Rabanne (Puig USA)
Prada Infusion de Tubereuse (Puig USA)
Tom Ford Azure Lime by Tom Ford Beauty

Fragrance of the Year Indie Brand
Candide Perfume (Womens) by Aftelier Perfumes
Honey Blossom Perfume (Womens) by Aftelier Perfumes
Lumiere Eau de Parfum (Womens) by Aftelier Perfumes
Six Scents Parfums: Series Three (Unisex) by Six Scents ParfumsWON
Fragrance of the Year Mens Luxe
Bleu de Chanel by Chanel WON
Dolce & Gabbana the One Gentleman (P&G Prestige)
Marc Jacobs Bang (Coty Prestige)
The Big Pony Collection: 1, 2, 3, & 4 By Ralph Lauren Fragrances
Voyage dHerms (Beaut Prestige International)

Fragrance of the Year Womens Luxe
Acqua di Gioia by Giorgio Armani
Chance Eau Tendre by Chanel
Gucci Guilty (P&G Prestige) WON
pureDKNY by Donna Karan Cosmetics
Voyage dHerms (Beaut Prestige International)
Fragrance Hall of Fame (Women's)
24 Faubourg, Hermes, Beaute Prestige International
Issey Miyake LEau dIssey Beaute Prestige International WON
Jean Paul Gaultier Classique Beaute Prestige International
Moschinop Cheap and Chic by EuroItaly, Inc
Pleasures by Estee Luader
Red Door by Elizabeth Arden
Tresor by Lancome
Fragrance Hall of Fame (Men's)
Jean Paul Gaulter Le Male by Beaute Prestige International WON
LEau dIssey Poure Homme by Beaute Prestige International
Versace The Dreamer by EuroItaly Inc
Fragrance Sales Breakthrough
Mary J. Blige My Life WON

Consumer's Choice Men's
Bath & Body Works Twilight Woods WON
Consumer's Choice Women's
Bombshell Victorias Secret WON
Fragrance Superstar (Live Voting At Awards Ceremony)
Gucci Guilty WON
And, the Editorial and Technological Award winners were:
Editorial Excellence in Fragrance Coverage Womens Scent Feature: Allure, Poetic License, September 2010
Editorial Excellence in Fragrance Coverage Mens Scent Feature: (Tie) Elle, Picking Up His Scent; Marie Claire, Making Scents for Men
Editorial Excellence in Fragrance Coverage Womens Scent Bite: Elle, Mix Masters, September 2010
Editorial Excellence in Fragrance Coverage Blog: elle.com, An Eau of Our Own, October 2010
Technological Breakthrough of the Year Fragrance Creation & Formulation: Robertet Fragrances, Seed to Scent
Technological Breakthrough of the Year Packaging Technology & Delivery Systems: International Flavors & Fragrances, Redken Radiant Sea Spray
Technological Breakthrough of the Year Information Technology: Firmenich, osMoz iPhone App