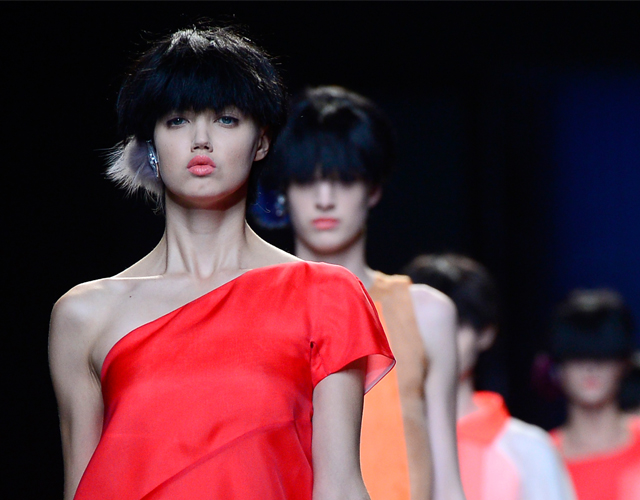 The stunning collection presented by Fendi (and Karl Lagerfeld) at Milan Fashion Week this morning was accompanied by no shortage of distinctive beauty looks – and by distinctive, we mean a short, cropped bowl cut. Hairstylist Sam McKnight styled a slew of black wigs into the formally not so fashionable cut for the event, taking influences from the Beatles, Japan and Linda Evangelista.
Apparently, the invite for the show was also another clue to what the beauty look would be, as the lipstick look exactly matched the shade of the lips – a combination of Make Up For Ever Lipstick in 39 and lip liner in 18 C, donned a "chemical peach" shade by makeup artist Peter Philips.
But, aside from the gorgeous lip color (and curious short crop) we also noticed a tiny bit of fur sticking out of each model's right ear – which has resulted in different reports. Some people are noting that they are fur earrings, while others are claiming fur hair clips. We'll just have to wait and see what the verdict is, but we're curious to see if this trend catches on…
What do you think of the look? Love the lip but could live without the hairstyle? Let us know in the comments below!
Photo via AFP/Getty Images
More From Beauty High:
10 of the Best Tips From Pros We Learned Backstage at Fashion Week
Must-See Looks From Fashion Week: Fembots, Strippers and Tweety Bird
Beauty Street Style From NYFW: 20 Looks That Caught Our Eye