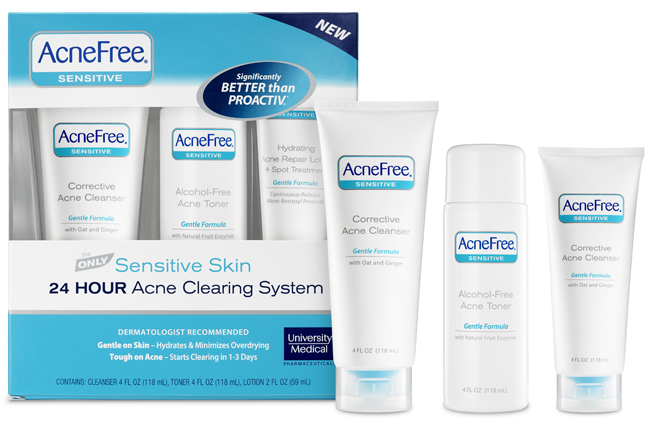 With winter on its way, acne products that dry the skin are the last thing we want to try. That said, when a blemish or two does pop up, we need a treatment that eliminates the oil but helps skin retain its moisture. At the end of last week, I experienced some acne along my jawline, and days before a date, I needed it gone fast. So I turned to AcneFree Sensitive Skin 24 Hour Acne Clearing System ($19.99, acnefree.com) in hopes that it would live up to its name — be gentle and clear quickly.
Within 36 hours (so it almost lived up to its name) and three applications, my skin was back to normal. And if you're like me and you hate switching up your skincare routine,  you'll love this system. The treatment includes three products — a cleanser, toner and lotion. The salicylic acid cleanser removes any oil that's clogging pores as it deep cleans. I just swapped it in for my everyday cleanser and used it with my Clarisonic. No extra step to my routine there. The toner, which should be applied with a cotton swab, helped by removing any dead skin cells and reducing redness. To finish it off, the lotion + spot treatment with benzoyl peroxide moisturized as well as removing any bacteria still present underneath pores. It's so hydrating you don't need to layer on another lotion.
From starting this treatment on Thursday night to waking up on Saturday morning, my skin was spotless, hydrated and date-ready.
Read more: 5 Ways to Prep Your Skin for Winter