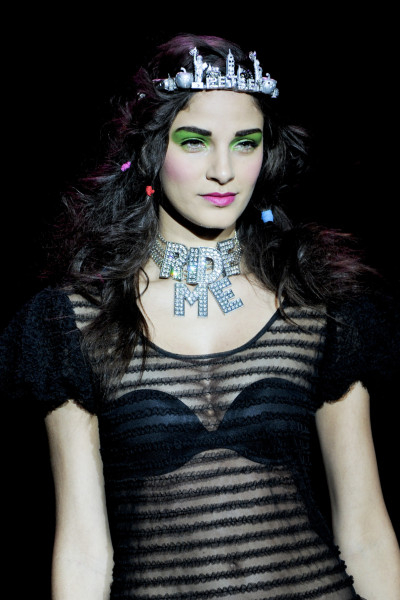 Photo: © Luca Cannionieri
Walking into the backstage area for Betsey Johnson, you can already tell it's going to be a different kind of show. Bunches of balloons bob merrily around plates of bright candy, while upbeat rock music blasts. Models smile, blow bubbles with their gum and everyone is generally having a blast.
The hair and makeup aptly reflect this happy vibe, with over-the-top colors and styles. "Betsey's inspiration was cycling, so she wanted an athletic punk cycling look–a fun, silly, happy, adolescent grunge," said Redken lead stylist Peter Gray. That meant super-messy, textured hair accented with colorful accessories. Gray wanted models' hair to look hard but didn't want to torture it, so he rubbed hair conditioner through hair, twisting to create dreads that "look rough and matted, but are actually soft."
He then loosely curled hair and backcombed it with fingers. He initially wanted to add bike beads, but decided it would look too "Rastafarian." Instead he took colorful opaque tights and cut them into 1-inch circular strips, which he wrapped haphazardly through models' hair to make messy little ponytails.
To cap off this fun and funky look, Stila lead makeup artist Sarah Lucero created a bold kelly green eye paired with lots of lashes and a bright pink lip and cheek. Nails were, as Betsey described them, "a rock n' roll rainbow racing strip," with Butter London founder Noni Cream applying pre-done press-on nails that featured a Pepto pink cream base with a shimmery navy and bright yellow strip on the top edge.

Try on more Fashion Week looks in the Makeover Studio!