A pure, au natural look feels right in tune for spring's upcoming lightness and flowy fabrics. Our friends at StyleCaster went straight to the makeup experts to get the look.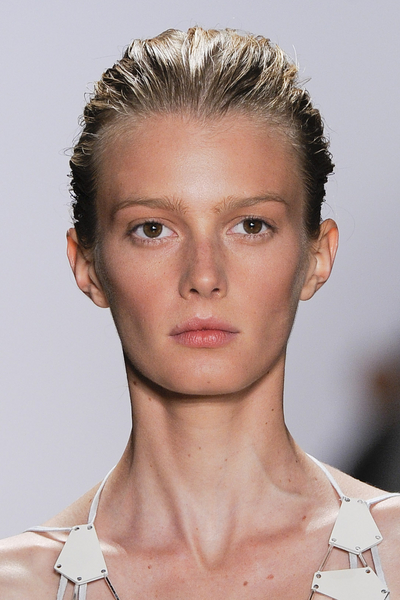 Photo: © Luca Cannionieri
The look from BCBGMAXAZRIA's spring 2011 collection has us ready to ditch our hair products next summer and go with a more simplistic, pure hairstyle. As Bumble & Bumble's Neil Moodie, who was in charge of styling the models' hair for the show, told us, "I feel like hair's going to have that slick feeling for spring/summer – less beachy."
To get that slicked back look, Moodie first sprayed the hair with Bumble & Bumble tonic spray which includes tea tree oil and detangling ingredients and gives the hair a slight glow. Moodie then blow dried the hair away from the face using a flat Mason Pearson brush which helps to smooth the hair without amplifying the volume. To finish off the look, he pulled the models' hair back into a lower pony at the nape of the neck and secured with a clear elastic band. For extra straightening, Moodie ran the ponytail through a straightening iron for a slick look sans hairspray.
Keeping in tune with the "virginal and untouched" look that Moodie described to us, Maybelline's Gigi Gommers kept the makeup au natural as well. As a primer, Maybelline's Age Rewind was applied all over the face followed by a finishing mineral powder in a light pink shade, which was applied lightly over the cheeks.
For the eyes, Gommers went with an all-over gold shadow from Maybelline's Green With Envy quad and added a touch of silver shadow just in the middle of the under-eye for some added shine. Gommers chose to leave the eyelashes completely bare for the runway, but she did finalize the look with a little touch of pale pink on the lips via Maybelline's Color Sensational Lipstick in No. 5 In The Buff. A touch of Vaseline was smoothed on over the pink lip color "not for shine, but to moisturize," Gommers told us. "It's a very simple look but very natural," she said.
Contributed by Michelle Halpern

Find more Fashion Week looks in the Makeover Studio!
More Fashion and Beauty News From StyleCaster:
Fashion Week Spring 2011: Heavily Lined Eyes at Jen Kao
How to Get a Velvety Red Lip
Whitney Port's Top Beauty Must-Haves
How to Cover Up Dark Circles
The Best Hair Products For Your Hair Type