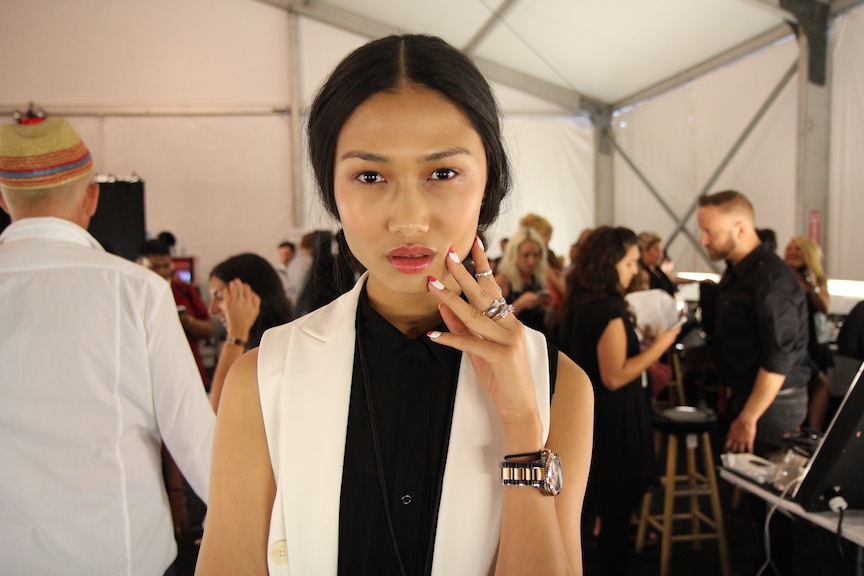 As we immerse ourselves in the Spring 2014 fashion week shows, keeping an eye out for the hottest new looks to be created for the runways, it's nice to take a step back and think about where these looks that we see will end up. Will the ombre matte lipstick look ever get past the runway? Who will really wear a coral lip with mascara only on the top lashes? As beauty editors, this is something that is constantly running through our heads, and as real girls, something that we often consider as we spot models with gorgeous makeup looks. We think to ourselves, "She looks great in that, but can I pull it off?"
This fashion week, we caught up with the legendary Gregory Arlt, Director of Makeup Artistry of MAC Cosmetics, who came back to make an appearance at New York Fashion Week for just a few select shows (he now resides in LA, working with clients such as Dita Von Teese, Victoria Beckham and Sienna Miller). He, along with MAC Cosmetics Senior Artist Keri Blair, explained to us just how the trends that we see at fashion week evolve as they move from the runways to the red carpet, and vice versa. We followed them from their makeup test backstage at Desigual as they experimented with looks right up until showtime – and captured every decision along the way.
How does what you're creating on the red carpet help during fashion week, and does it influence you at all? 
I find that, if I'm being honest, often times the looks that I do on the runway influence my red carpet. It's really inspiring doing fashion week and you can definitely be a little bit more creative. I always say the trend on the red carpet is pretty, and with that being said you do see a few different trends on the red carpet, sometimes it can be a fresh face or an ingénue look or it could be a smokey eye, but it's usually not as edgy as what we see during Fashion Week. I'm kind of more primarily known as a beauty makeup artist. Spring/Summer are my favorite shows because I love that whole aesthetic of summertime and happy and effortless beauty and washes of color and all of that kind of stuff. I find that there is a little bit of crossover, sometimes designers play it a little safe because now they want to sell to the celebrities so then the makeup tends to be a little bit more beauty related.
When it comes to creating a look for a specific show, can you walk me through the creative process that goes into it?
For us, there are so many different factors involved. We come to do a makeup test, like we are doing now, and basically we meet with the stylists who style the root to the boot, literally style everything.
So we meet together, we come with the hairstylists and the clothing stylist and we find out the vibe. The vibe of the clothes, the look, and we kind of just have a pow-wow. We use a gorgeous model as our sketch palette and also for us it's about looking at the clothing and looking at the inspiration board. I love looking at the inspiration board because it kind of tells you everything. Sometimes they [the designer] will send over references of what they are looking for. This in particular, they were saying they love coral, they love blush, they love a pop of color on the lips and a very clean eye which I love too and just sit and talk about it and collaborate. For instance MAC will come out with of course colors for spring and summer, so we will look at a big bag of tons of beautiful makeup and see what might work for the particular show.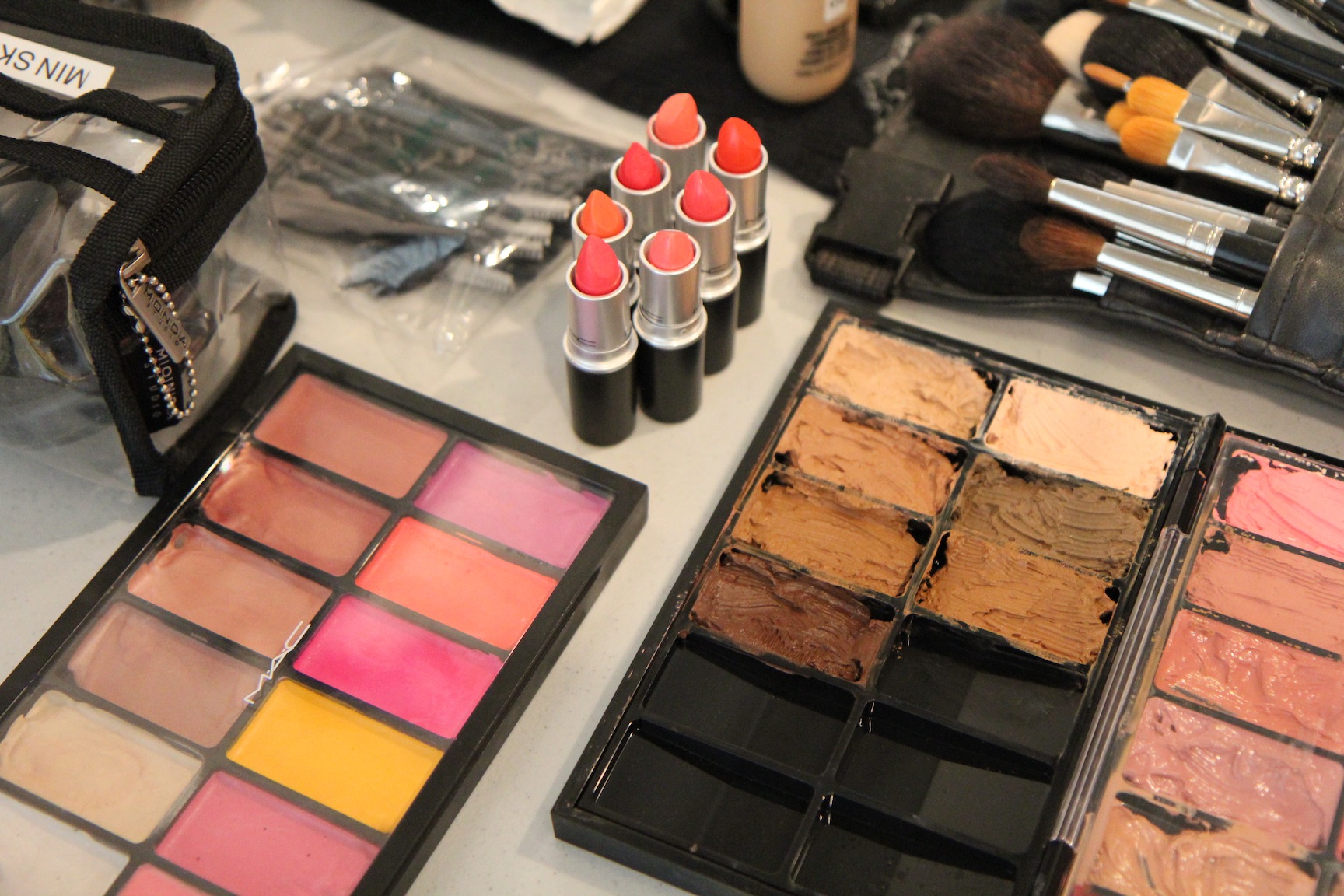 Do you pull your own inspiration before each look that you create, whether it's fashion week or red carpet?
From time to time I do. For fashion week it's hard to say because obviously its always going to depend on what the stylists or the designer is really looking for, for their show.
For the red carpet, it's really me collaborating a lot with the publicists who represent the celebrities. What they will do is send over an image of the dress the celebrity is wearing and sometimes we will have a talk about the hair and makeup and I can get really influenced. If I'm looking at a dress that might have more of a 1940's retro look I'll maybe suggest that we should go with a deep lip or do something red. Sometimes the celebrity might have a whole different idea of what they want to look like. With fashion week it's really an on the spot thing, often times they'll send references. As makeup artists we don't really come to the table saying 'this is what I was feeling,' it really is contingent on what the stylist wants and then we work together until we find it.
MORE: New York Fashion Week By the Numbers, a MAC Cosmetics Edition
Desigual is obviously very colorful, so how is that going to be reflected in this beauty look?
They have a lot of bright colors. There is a lot of fuchsia in the collection and oranges and corals and some pastel blues. I'm obsessed with coral, I love coral right now it's like my favorite thing. We've seen it come around a few seasons but I think it's now more of like an effortless coral. Something that's almost kind of stained.
Since we are still kind of playing around with the makeup, can you talk to me about where we are going with this look?
I always joke and say I'm a method makeup artist. She's young and happy and a fun, happy girl. I'm always inspired by the idea of somebody maybe having a popsicle and having that stain on the mouth and just effortless. Like if she's in the back of the cab and just throwing it on and doesn't have to worry about where it goes. I'm using just a concealer brush to apply the lips. I don't want that lipstick-y feeling, but the feeling of a little 'throw and go.'
Why is the concealer brush better?
It almost mimics the size of your fingertips. The lip brush is a little smaller and it can actually go a bit more precise and I want this to look a little more effortless. It's not like a lined lip. The look makes sense with the clothes, and I just wanted the A+ version of themselves with a pop of color. I think this is a look that a lot of women will gravitate towards because there's not a lot of makeup.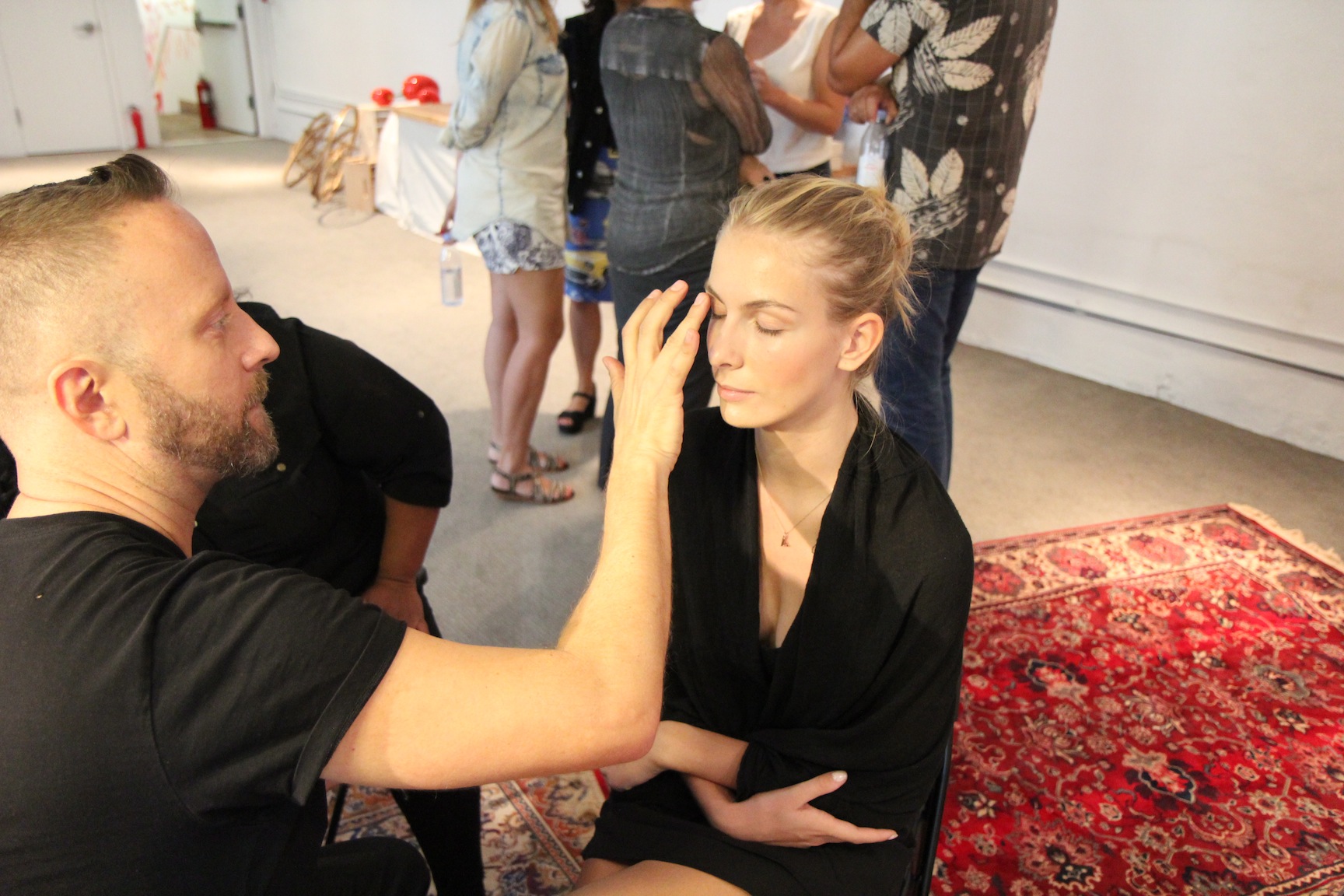 DAY OF SHOW: Now that we're backstage at the show, can you walk me through the complete look?
Literally from start to finish I'm going to give it to you. For me it's all about bringing life into the skin so I encourage all of the artists to really hydrate and moisturize the skin. My favorite product right now by MAC is moisture infusion, which increases your moisture by 65%…it's amazing, it's like the biggest gallon of water for your face. Then I use Face and Body Foundation and I put two drops of Lustre Drops, which are basically like a liquid highlighter, and I mix that into the face and body foundation so the skin has a glow. After that I didn't use any powder because I wanted the skin to still have a nice luminosity to it. For the eyes, I kept it really, really simple. I mixed two fabulous Cream Colour Bases by MAC. The first is called Hush, which is kind of a golden pink and the other is called Pearl which is like an ivory, pearl color. Mixed the two together, put them on the eyelid. And then this new palette, it's just called Spring '14 Trend Forecast, they are cream eyeshadows. I mixed Cultivating Chic with Now In Season to bring a little definition to the crease of the eye. I used mascara only on the top and then the cheeks and the lips I used the same color, it's called Out For Fun, it's like a cream that you can use on cheeks and lips. Then I popped a little orange lipstick over it just to make it really uber crazy.
MORE: Editor Approved: Fashion Week Beauty Trends to Try
So we were talking about how red carpet and runway trends kind of all come full circle, are you hoping that coral will translate back to the red carpet?
I hope so. I think that sometimes people are a little intimidated by coral and they are worried they are going to look old, but I think it's so wearable. I really hope it does, I'm going to try and convince my clients to wear it.  I don't see why not, I think it's fun, it's different. I think a lot of times when I am working with celebrities for the red carpet, when they think of a lip, they think of a red lip. I think a version of a coral, like maybe more of a true stain or put a gloss over it to calm it down a little bit, but we'll see.
When you are working with your clients, do you tend to show them fashion week images?
I have actually, especially when I just get back from fashion week. With makeup, whether I'm doing fashion week or red carpet, I never try to force my agenda onto anybody. It's always about being collaborative, but thankfully I have a lot of clients who trust me and they are open to suggestions.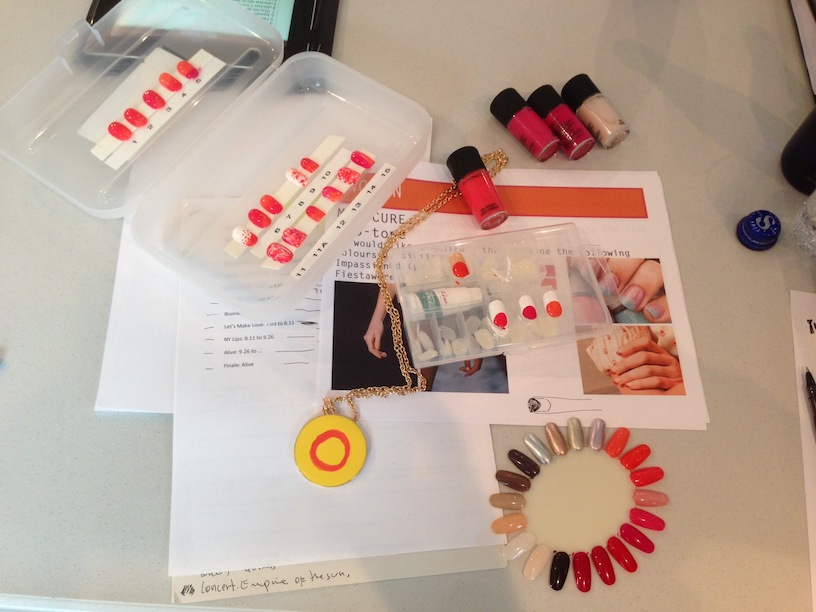 Now we must talk nails (with Keri Blair, MAC Senior Artist) – how did you come up with this look?
So basically what they sent me was this, which was the colors that they were interested in which were Impassioned and Fiestaware, two of our existing colors, and they wanted a two-toned nail so to speak. So off of this, I did 15 prototypes and what I noticed as I was working was that because of the tone of the two nail varnishes are the same, they don't really give the effect of a two-tone nail. There is a slight gradient but it's not a super standout. So I threw in Steamy in the mix, which is a deeper pink, and then I went to the test. So they kind of felt the same way when I got there which was really interesting and we started talking. It was really nice and intimate because it was just me, the stylist and the designers. They really liked this nail but they wanted it to be a circle because the whole collection has dots and circles and polka dots. So they asked "Can you do this but make it round?" So we ended up with this as our final concept [shows final nail]. We also tried it in a nude but it didn't have the same impact, so now when the girls walk down the runway, you just see this spot of color on the ends of their hands which is really cool.
Then the other piece, whether any of us like it or not, is that the French is coming back. So what I like about this was that it has a really interesting departure from French but still had the same concept. It's like a French twist as opposed to a French manicure.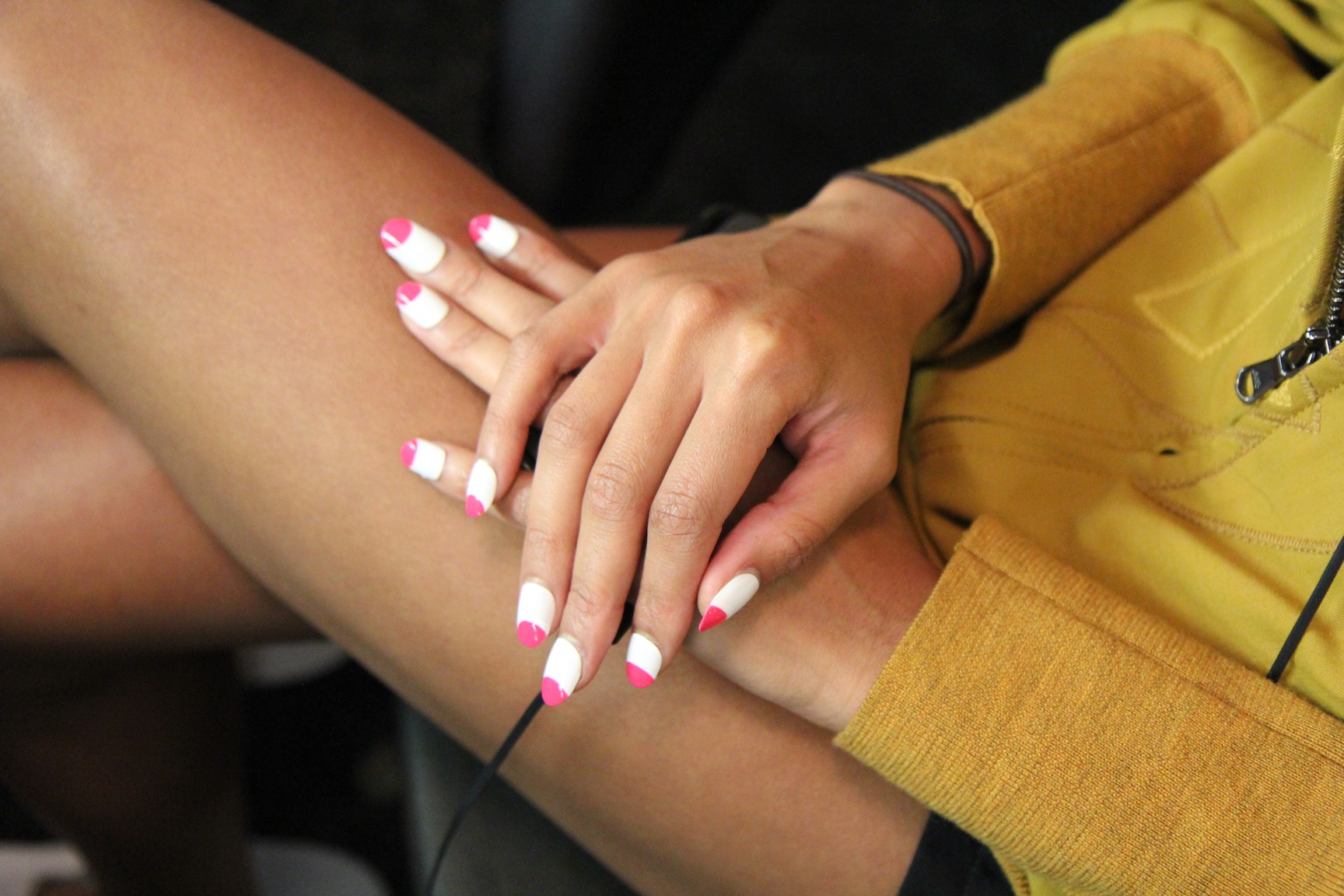 Alright, so the French manicure is coming back, we'll have to deal. Can you explain what you think will happen with this "new" French manicure?
The French manicure has been around forever and I feel like there's always been a take on it, whether it's a gradient from the tip to the base of the nail or whether it's a color or a shape or a chevron or what have you, there's always some sort of element of it. I think the classic square, white-tipped acrylic looking nail can be very dated looking. I think what's interesting is that Chanel did it for their show, and of course Chanel is always going to do something refined and interesting and soft, so I think what's great about that is it's opened the door to reexamine the French manicure in a really modern, contemporary kind of way. So maybe it's something as subtle as changing the shape of the nail. Instead of doing it on a really hard square-edged nail, we are doing it on an almond or on a round shape, or oblong shape. Perhaps it's using color, maybe it's being inverted, maybe it's using nude instead of white, using more of cement or a khaki kind of a color so it still has that natural feeling but it's not that stark white. Perhaps it's even doing something like inversion, which I think what's really unique to this manicure is that we are going against the normal grain of the nail and I think it gives it a really interesting graphic statement and it still falls under that French category.
Do you ever find that there is a crossover between runway and red carpet with nails, and do you predict that this fun twist of the French will do that?
I do. I feel like real life imitates runway life and runway life imitates real life. At this point red carpet has become a part of real life, as a culture, as a society we are bombarded with those images all the time. So celebrity and fashion have really crossed over in a lot of ways and I think that this kind of a trend is kind of a no-brainer because it's still classic, but it has a really interesting twist that you could talk about that's red carpet worthy. I think that everyone can wear it and they are not going to feel embarrassed or over-the-top and it's also very achievable.  So obviously celebrities aren't necessarily doing their own nails but your nail tech can still create these looks and keep you fashion-forward. All of the things that we see here are inspired by real women, especially in New York, but quite honestly we are inspired by what happens back here [backstage] as real women so it's kind of a blurred line. I think that's why there is so much crossover.
Photos by Rolly Robinson