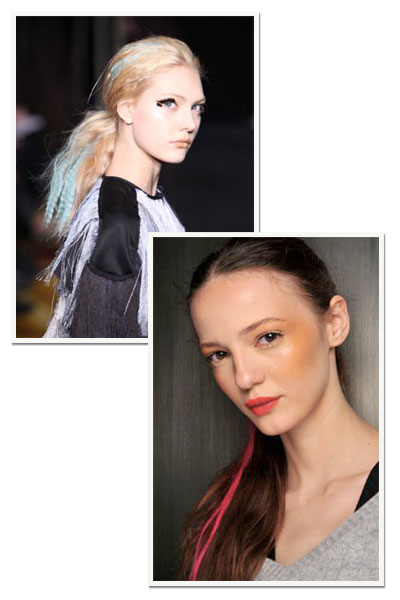 Photos: © Wella Professionals and Luca Cannionieri
Looks like it's time to break out the Manic Panic. The big beauty trend for hair at Fall 2010 Fashion Week was bright, chunky streaks of color that brought to mind punk-inspired street style circa the mid-90s. It's a look that's not only super-chic, but surprisingly wearable as well.
At the Cynthia Rowley Fall 2010 fashion show, Eva Scrivo for Wella Professionals custom colored hair extensions in shades of emerald, lapis, amethyst, navy and turquoise to replicate the rich jewel tones present in the collection. Each hair extension was completely saturated with professional salon hair color and then woven into the hair and styled, creating an element of surprise and intrigue when models hit the runway.
Super stylist Ted Gibson for beauty.com went for a version of the trend that was a little easier to DIY at the Vena Cava Fall 2010 fashion show. He used Streekers to color hair extensions in shades of hot pink, purple and green, then pulled them back into the models' slightly mussed ponytails to give a "downtown, cool feel," to the otherwise equestrian look.
We think this is one trend that just might hit the trifecta of translating in all three worlds: runway, red carpet and real world. Lady Gaga and Katy Perry recently caused a stir at the VMA's with their own spin on the Crayola color trend. Adding a bright streak of color to your coif is an easy way to add a hip edge to your regularly scheduled hairstyle without a huge commitment.

Try on more cool Fashion Week looks in the Makeover Studio!