The sheer, neutral palette of summer has faded away, and an array of bold, luxurious makeup shades is quickly emerging. "While this season's statement-making color palette is rich and full of texture, the shades are still very wearable. But you must have a confident attitude that says, 'I know what I am doing," reports MAC senior artist Romero Jennings. That said, here's how to work these new hues into your look.
Grape/Plum/Aubergine
Purple is a very universal shade–it works on almost every skin tone. "It's the perfect color because it contains both red which is warm, and blue which is cool," says celebrity makeup artist Troy Surratt, whose clients include Zooey Deschanel and Charlize Theron. There's a purple shade for each skin tone:
Light complexions should gravitate toward grape and lavender hues. "Keep dark purple close to the lashes, like a smudged eye liner," says Stila Pro Artist Sarah Lucero, "and apply a sheer wash of soft lavender on the lids and let it diffuse into the crease."
Medium skin tones will sparkle in plum eye shadow. Try applying a thin line of shadow along upper and lower lashes from the inner to outer corners of the eye.
Dark skin will stand out in a deep aubergine. An eggplant colored mascara over top of black mascara, just on the tips, will intensify most eye colors.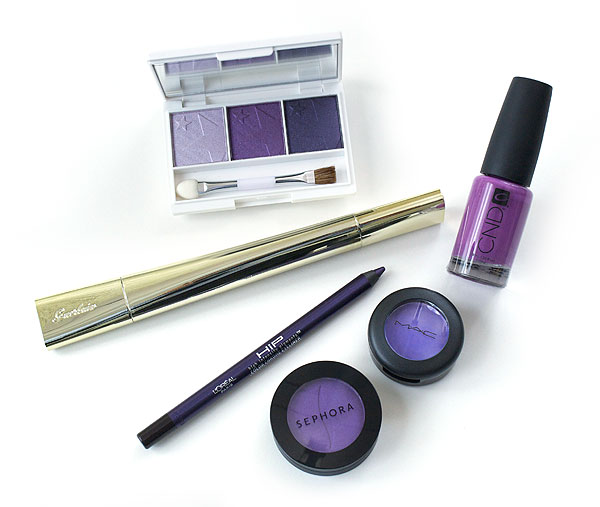 Our favorite purples of the season (clockwise, from left to right): NP Set Eye Palette in Amsterdam, CND Nail Polish in Eclectic Purple, MAC Eye Shadow in Haunting, Sephora Colorful Mono Eyeshadow, L'Oreal Paris H.I.P. Color Chrome Eyeliner in Violet Volt, Le 2 de Guerlain Mascara in Nuit 2 Boheme
Moss/Olive/Hunter
The popular verdant hues this fall are not the teals and blue-greens of seasons past. Instead they're earthier and far more subtle yet still unexpected. Just be sure to find ones that have a hint of shimmer to avoid looking dirty or dusty. "These greens, whether for eyes or nails, are as neutral and wearable as a pair of khaki pants that you'd throw on with a white shirt," says Surratt. Girls of all skin tones can go green:
Pale complexions will look great with deep hunter nail polish. It's a fantastic way to feel fall-forward without wearing dark shades on the face.
Medium skin tones can pull off deeper ivy shades on the eyes. Lucero suggests pairing green eye shadow with peach hues on the lips and cheeks for a fresh, modern look.
Deeper skin tones should use a sparkling olive eye shadow to create a stunning smoky effect.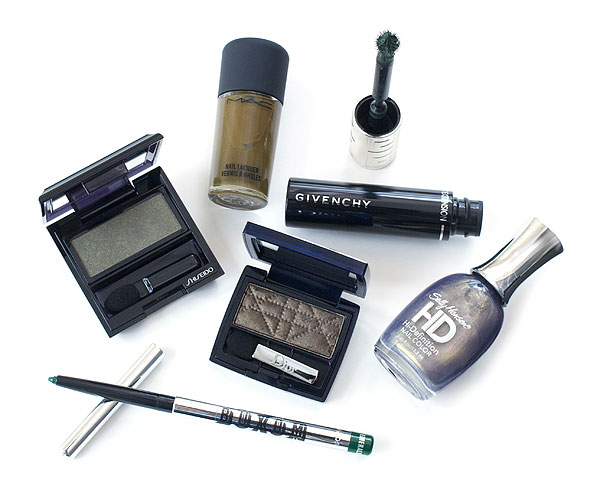 Check out our favorite green picks (clockwise, from left to right): MAC Nail Lacquer in Dry Martini, Givenchy Phenomen'Eyes Mascara in Extension Khaki, Sally Hansen Hi-Definition Nail Color in Opulent Cloud, Bare Escentuals Buxom Insider Eyeliner in Emerald, Dior Ultra-Smooth High Impact Eyeshadow in Bronzy Night, Shiseido Luminizing Satin Eye Color in GR712
Crimson/ Cranberry/Mulberry
This color group is made for lips and nails! Dark cranberries and deep crimsons on nails always look sophisticated, no matter what the occasion. Many of the lip offerings are made for layering — a sheer finish is a must for daytime, but you'll want to transition into a satin or a matte version for evening. "I always use the analogy that just as you start layering your wardrobe, do the same with your makeup," advises Surratt. "When you start reaching for cashmeres and the heavier fabrics, reach for more velvety textures for your face." Berry hues work for all skin tones:
Fair-skinned girls may want to try sheer but deep berry shades with blue undertones for evening.
Medium skin tones will do well with a maroon gloss layered over a lipstick or worn on its own.
Dark complexions have the most options. Go for a rich mulberry nail polish, dramatic lipstick or even a metallic eye shadow.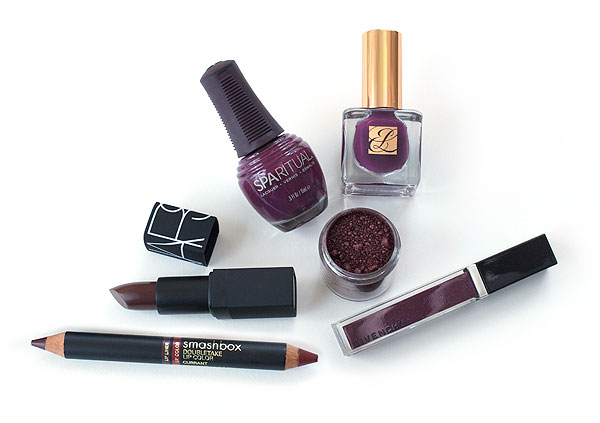 Some of our most wanted berry picks this season are (clockwise, left to right): SpaRitual Nail Lacquer in Regal, Estee Lauder Nail Lacquer in Black Amethyst, MAC Pigment Colour Powder in Heritage Rouge, Givenchy Gloss Interdit in 15, Smashbox DoubleTake Lip Color in Currant, NARS Lipstick in Fast Ride
Dove Grey/Silver/Charcoal
"Greys are eternal," exclaims Surratt, and this season's medium and silvery greys are a much fresher choice for a smoky eye. Greys also complement rich-colored eyes beautifully. Just be careful not to overdo it on the lids or you may look whitewashed. Greys are gorgeous on the full gamut of skin tones:
Fair complexions should use deep shades like cement or charcoal to stand out against pale skin. Just remember to start with less product and gradually add more color to achieve the desired effect.
Medium skin tones will look super chic with a creamy grey nail polish this season. It's the perfect, modern, fashionable neutral.
Darker skin yields a beautiful contrast with sparkling silver on eyes or nails.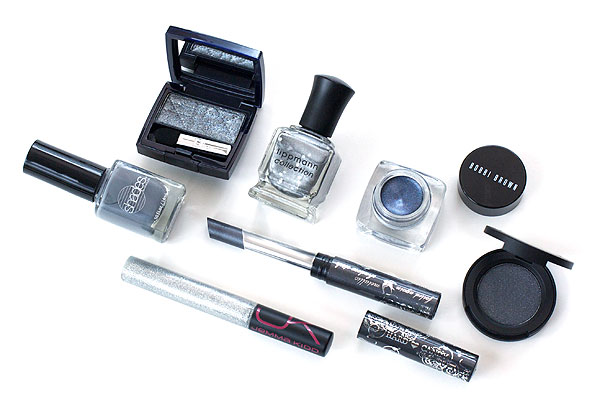 Take a look at our favorite steel greys of the season (clockwise, left to right): Dior Ultra Smooth High Impact Eyeshadow in Argentic,Lippmann Collection Nail Lacquer in Marquee Moon, Bobbi Brown Long-Wearing Gel Liner in Graphite Shimmer, Global Goddess i-Divine eye Color in Rekha, Hard Candy Foiled Again Metallic Shadow Stick in Glimpse, Jemma Kidd Silver Screen Liner/Mascara Duo in Silver, Shades by Barielle in U-Concrete-Me
Cobalt/Navy Blue/Indigo
The blues of fall 2009 are not your mother's powdery pastels and are all about eyes and nails. These shades are deep, textured, rich versions of navy and indigo–almost blue/black in some cases. They are the perfect tools to use to enhance your eyes. According to Surratt, liners in these hues "have the effect of Clorox 2 for the whites of the eyes"– it makes them gleam and appear clearer. Think about replacing that standard black liner you always buy for a deep blue; the difference will be subtle enough not to be jarring, but the payoff will be incredibly beautiful. Cobalt, navy blue and indigo all flatter the entire spectrum of skin tones:
Light complexions should simply apply navy blue shadow with light to medium intensity in the crease of the lid.
Medium skin tones will look great with indigo polish.
Dark skin tones will be amped up with darker blue shades. "I love using navy and cobalt blue on deep skin," says Lucero. "Keep the colors cool and play off the skin tone. It will brighten up your entire face." Cobalt blue mascara adds a touch of drama to an otherwise low-key face. Just add a nude pink lipstick or gloss for a quick, appropriate-for-work look.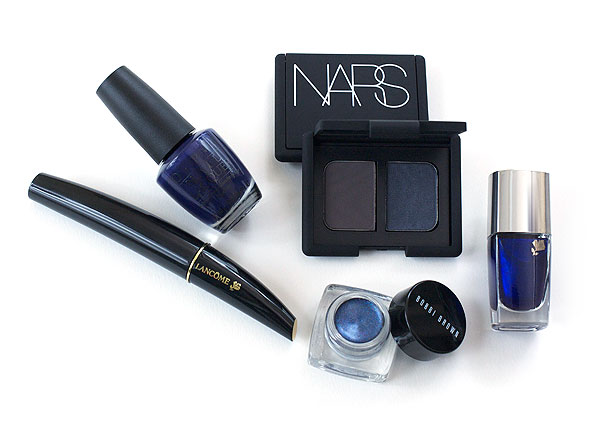 Our favorite deep blues for fall include (clockwise, left to right): OPI Matte Nail Lacquer in Russian Navy, Nars Duo Eye Shadow in Brumes, Lancome Unfailing Nail Lacquer in Indigo Paris, Bobbi Brown Metallic Long-Wear Cream Shadow in Starry Night, Lancome Virtuôse Mascara in Royal Gold
With these new shades in your arsenal, how can you not Fall In Love With Color this season?
Related Content:
Make Over Your Makeup Bag
5 Fall 2009 Manicure Trends
My Favorite Fall Makeup Trends