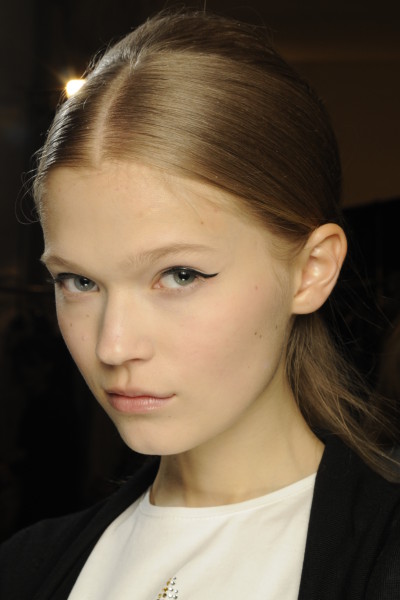 Photo: © Luca Cannonieri
Lined eyes that define your gaze and get you noticed are a hot new look this fall. There are a few formulas and styles I like to use, and I can give you some helpful tips on how to apply them with ease.
The first chic fall look is the bold liquid line swept across the upper lash line ending in a slight wing. The most perfect way to wear it this fall is in a shade of deep chocolate brown paired with a granite eyeshadow. If you have trouble getting the perfect lines, try using pen-style liquid liner like the Smashbox Limitless Liquid Liner Pen, which is easier to apply, and start with small little dashes working from the inside corner towards the outer corner. If the wing doesn't look perfect, use a small-tipped concealer brush dipped into a little of my Sally Hansen Natural Beauty Inspired By Carmindy Fast Fix Concealer in All Over Brightener to clean up the edges of the wing for a perfect ending with a bright, eye-opening effect.
The other lined eye for fall is a colorful gel liner like the Tarte EmphasEyes Waterproof Clay Shadow smudged along the upper and lower lash line with an angle brush. This is probably the easiest way to create definition because the angle brush allows for really easy application.
Use shades of deep eggplant, bronze or forest green and pair it with soft shimmering brown shadows. Another way to line up your eyes is by using my Sally Hansen Natural Beauty Inspired By Carmindy Forever Stay Eye Pencil in Deep Black and apply it along the upper lash line. Then, swipe the Laura Mercier Smudge Brush back and forth along the upper lashes. Use whatever's left on the brush to apply it under the lower lashes for a soft shade of definition.
Next, apply the liner on the inner rims and pair this with only a shimmering highlight across the lids from lashes to under the brows. All three of these cool lined looks should be worn at night for maximum drama. Keep the rest of your makeup simple to have people lining up to check you out!

Try on eyeliner in the Makeover Studio!
As an established makeup artist, many beauty brands send me samples of their latest products for consideration. I only write about the items that I truly love and I always abide by Daily Makeover's Editorial Ethics Pledge in each of my Positively Beautiful posts.