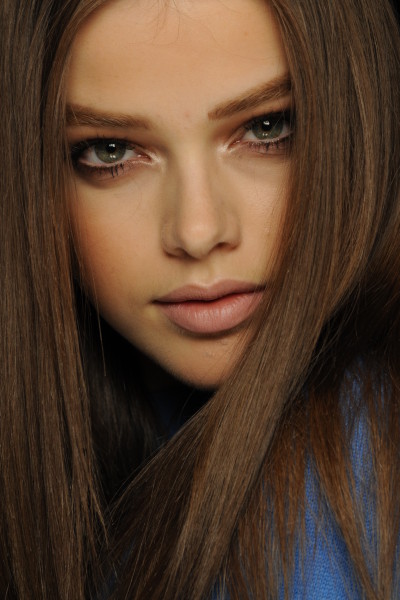 Photo: © Luca Cannonieri
Okay, so I'm totally smitten with a smudgy rich colored bedroom eye this fall. It looks so beautiful with clean, glowing skin and a neutral mouth. I imagine being cuddled up in a chunky cableknit sweater, sipping tea with my eyes defined in earthly hues.
Fall Makeup Trends To Wear Now
The DuWop Smoke Palettes in Black Gold, Navy Seal, Olive Branch and Plum Wine are the perfect palettes to create this gorgeous look. For a daytime look I like to line the upper lash line the roots with the creamy cake eyeliner close and then smudge the shimmering powder eyeliner right above the cream liner for more dense definition. I then smudge the shadow under the lower lash line, keeping the lids bare and finishing off with mascara.
For a sultry evening look, try following the above steps but blending the shadow across the lid and just over the crease as well. To really make eyes pop, choose the Navy Seal if your eyes are brown, the Black Gold if your eyes are blue, the Olive Branch if your eyes are hazel and the Plum Wine if your eyes are green. Then, apply a highlighter under the brow and on the inner corners of the eyes. Use a pale gold like La Femme Sparkle Dust in Champagne Gold #14. Pair this look with a nude peachy-pink lipstick like the Dolce & Gabbana Classic Cream Lipstick in Nude and Sally Hansen Natural Beauty Inspired By Carmindy Sheerest Cream Blush in Bloom on the cheeks.

Try on smoky eye makeup in the Makeover Studio!
As an established makeup artist, many beauty brands send me samples of their latest products for consideration. I only write about the items that I truly love and I always abide by Daily Makeover's Editorial Ethics Pledge in each of my Positively Beautiful posts.