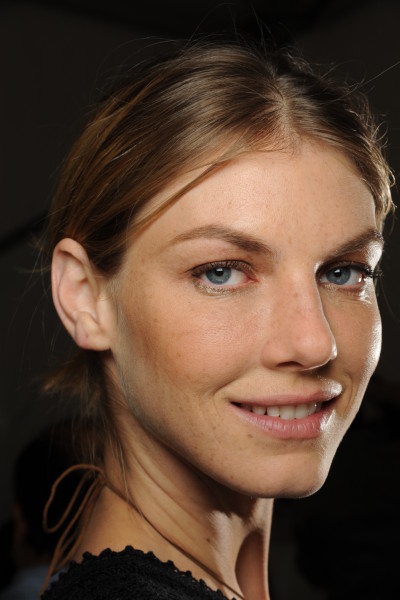 Photo: © Luca Cannonieri
During Fashion Week, I couldn't have been more excited to see many of the makeup looks for next spring were all about cheeks. The cheeks are the one area of the face that women rarely think about because they are usually more concerned with eyes, lips and skin. Playing up your cheeks with a sweet flush instantly brings youth and playfulness to the face and is a quick way to wake up your complexion in the morning.
At the DKNY show, pinky-brown cheeks were paired with glowing skin and light rose lips. The easiest way to achieve this look is to start with my Sally Hansen Natural Beauty Inspired By Carmindy Luminizing Face Primer, then apply a light layer of liquid foundation like my Your Skin Makeup. Dab on cream highlighter to "Carmindize" the face under brows, on the inner corners of eyes and on top of the cheekbones. Use a satiny pearl shade like RMS Living Luminizer to rim the outer lips and apply down the bridge of the nose to create the ultimate glow to the skin. Now, swirl my Sheerest Cream Blush in Beaming and on the apples of the cheeks and back to the hairline using the MAC 187 Duo Fibre Brush for a perfect blend of color.
At Micheal Kors, a bronze shade of powder blush was applied along the cheekbones and on the temples for a slightly contoured look. The best way to recreate this look is to apply foundation and powder first, then sweep on a bronzer like my SunGlow Powder as blush. Starting at the temples, blend the bronzer along the sides of the face and under the cheekbones with a last little swirl on the apples. Follow with black mascara and a light lip gloss like L'Oreal Colour Juice Sheer Lip Gloss in Cream Caramel.
The Best Beauty Looks From Fashion Week
Models at the Preen show walked the runway with super peachy cheeks and the same hue on the lips. Again, the eyes were kept very simple so it was all about the romantic flush. Apply a cream or powder blush just to the apples of your cheeks. Then, create a strong brow by filling them in with a brow pencil that has staying power, like Physicians Formula Brow Definer Automatic Brow Pencil, to create a perfect modern minimalist balance.

Try on blush in the Makeover Studio!
As an established makeup artist, many beauty brands send me samples of their latest products for consideration. I only write about the items that I truly love and I always abide by Daily Makeover's Editorial Ethics Pledge in each of my Positively Beautiful posts.