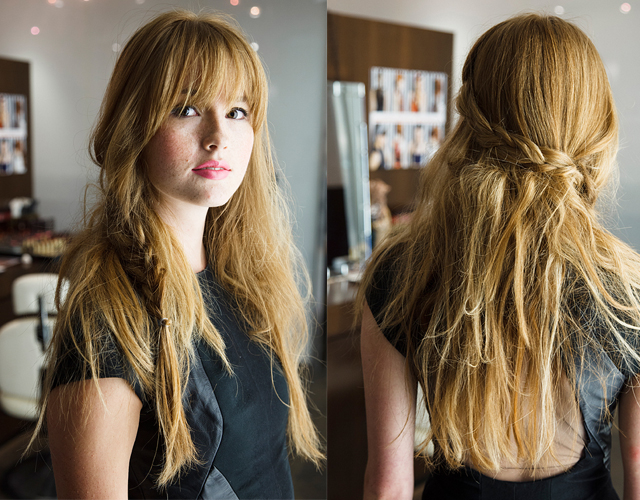 Chances are, at night you find yourself browsing the pages of Pinterest looking for a braid to try.  Out of the million styles that do exist, it's probably a known fact that the waterfall braid are one of the most lust-worthy, but many of us haven't exactly mastered the look yet. Just in case you want the look but don't have the patience to learn the trick to it (or have tried and failed), Kattia Solano of Butterfly Studio Salon taught us a trick to faking the braid.
Below, she details the steps to getting the look using a couple of the latest Kerastase products:
1. Start with dry hair in a side part and apply Powder Bluff by Kerastase so your hair is full of texture and easy to work with.
2. Starting right above your ear on the bigger section of your part, start a normal 3-strand braid and when you're done, secure with an elastic.
3. On the other side of your part, start another standard braid about 2 inches behind and above your ear.  When you're done, secure with an elastic.
4. With the braid from the larger side, wrap it around and tuck it into the top loops of the braid from the smaller side.  Twist and combine the two braids together and secure with an elastic.
5. For a finishing touch, apply Spray a Porter by Kerastase for a textured, summery beach look.
Courtesy Image