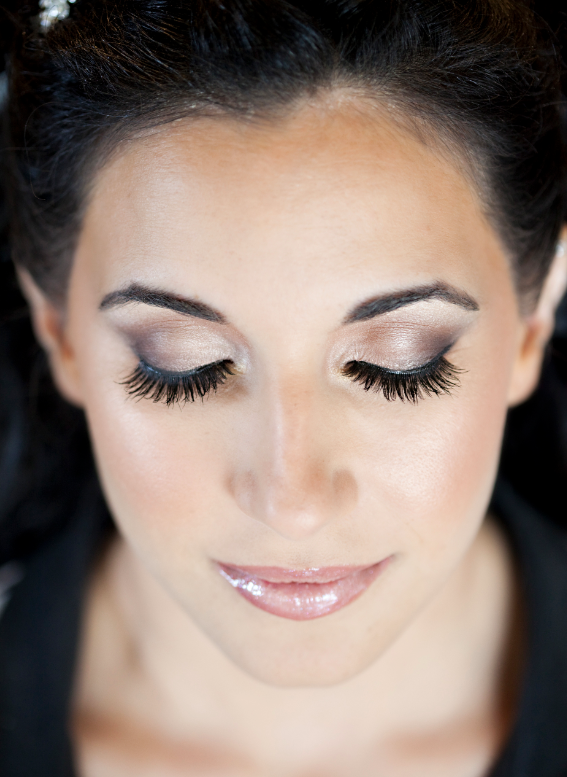 False eyelashes are instrumental in really making your eyes pop. From full-on falsies to individual lashes, there's no better way to make you look more gorgeous—and more awake (always helpful, right?).
The only problem is that lashes can be an absolute pain to apply, not to mention take off. To help you put those eye-boosters on like a pro, we chatted up  Julia Papworth, who's the makeup artist for Showtime's "Dexter" and has glammed up many famous faces, including Cameron Diaz and Julia Roberts. She gave us the full scoop on which lashes to buy, how to put them on and many more helpful tips.
The Best Brands to Buy
For full lash strips, Papworth loves Red Cherry, but suggests getting lashes from MAC if you're okay with splurging a bit.  For single falsies, try the ones made by Ardell, which come in various lengths, have an eye-hugging curve, and are affordable to boot.
Choosing Your Shape
If you have smaller eyes and your goal is to elongate, look for lashes that are thicker in the outer corner. This will add lift and length. For eyes that are wide set or have little or no crease, concentrate your lashes in the center of the eye. This will really open the eye up. For deep-set eyes, you want to use longer lash strips so you can really lengthen the eye. Remember the lashes are an extension on the eye shape, and the best part about false lashes is that you can control the shape!
Sizing Your Lashes
If you are using a strip, size them to your eye and then trim them down with cuticle scissors. Strips that are too long are incredibly hard to maneuver.
Putting Them On
Remember to practice—no one gets it right their first time! First, squeeze a drop of Duo adhesive on the back of your hand and use a cuticle stick to lightly dab on the glue to the lash. Wait about 15 seconds for the glue to get tacky, then lay the strip on the outer edge of your eye, as close to the lash line as possible. Make sure the angle of your false lashes is the same as the angle of your own lashes. Use 1-2 coats of mascara to blend.
If you are using individual lashes, use the same rules with the adhesive and then apply one at a time starting in the outer corner. Remember, if one looks like it is at an odd angle, take it off and try again. Once the glue has dried, make sure to apply black eyeliner to hide any visible adhesive.
Taking Them Off
When it comes to removal, use an oil-free eye makeup remover to soften the glue and then allow the lash to slide right off. Easy, right?
Storing Your Lashes
You might not know this, but—yes!—false eyelashes can be reusable. Make sure not to use any oil-based cleansers on the lash, as that will make additional uses very difficult (adhesive does not like to attach to an oily surface). Peel any remaining pieces of glue off the lash and use eye makeup remover and a Q-tip to clean it more thoroughly. Store your lashes in a clean plastic container and they'll be ready for your next big night out!
Image via Project Wedding